Classical Music Web Site
Music Webmaster Len Mullenger
---
New Productions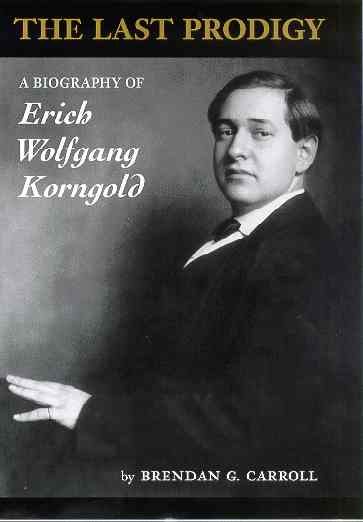 Book Review: by Ian Lace
THE LAST PRODIGY - A BIOGRAPHY OF
ERICH WOLFGANG KORNGOLD
by Brendan G. Carroll/Amadeus Press/$34.95(£29.99)
Buy from Amazon
I warmed to Brendan Carroll's superb new book immediately, when I read: "In 1971, when I was a teenager, I noticed a new long playing recording entitled The Sea Hawk: The Classic Film Scores of Erich Wolfgang Korngold in the window of a local record shop...My two great passions in life had always been classical music and the golden age of the movies..." From these beginnings Carroll went on to first make contact with Korngold's two sons and then to embark on a quest that took twenty-five years of painstaking research for this book. It amplifies considerably Jessica Duchen's admirable 240 page biography published by Phaidon Press last year with much vital new material including more facts, insights and quotations from the many people who knew the composer.
Carroll traces the composer's career commencing with his early success as a considerable child prodigy spoken of in the same breath as Mozart and his music lauded and/or played by such eminences as Mahler (who proclaimed him to be a genius), Puccini, Richard Strauss, Saint Saëns, Nikisch, Ernest Newman, Edward Dent, Bruno Walter and Felix Weingartner. Julius Korngold, the composer's father, was the successor to Eduard Hanslick as the most influential critic in Vienna and as such he waged an unremitting war against atonalism as represented by the new thinking of Schoenberg. His often caustic and withering comments gained him many enemies and at length inhibited his son's career as a composer in Europe. The book covers all Korngold's early works including The Snowman his ballet pantomime composed in 1908/09 and performed by the Vienna Court Opera when he was only eleven. His early instrumental, chamber and vocal music is detailed together with the operas: The Ring of Polykrates, Violanta, The Dead City, The Miracle of Heliane and Die Kathryn; plus his work arranging so many famous operettas including: A Night in Vienna, Die Fledermauss and La Belle Hélène.
Of particular interest to film music devotees, of course are the chapters about his life and work in Hollywood - how he was summoned there by his colleague Max Reinhardt to arrange Mendelssohn's music for the lavish Warner Bros. 1935 production of Shakespeare's A Midsummer Night's Dream and how he returned with his family to escape Nazi-occupied Vienna to score more films for the Warner Bros studio. (There are also full details of work he did for Paramount including arrangements and original music for a rather dire 1936 film, Give Us this Night starring Jan Kiepura and Gladys Swarthout.) From 1936 to 1946 Warner Bros scores were:
1935: Captain Blood

1936: Anthony Adverse (the score for which won an Academy Award for Leo B. Forbstein as head of the music department at Warners, upsetting Korngold so much so that the Academy had to alter its rules so that from then on it was the composer

himself who won the Award)

The Hearts Divided (One scene only)

The Green Pastures (Two sequences - material later used in The Sea Hawk)

1936-1937: Another Dawn

1937: The Prince and the Pauper

1938: The Adventures of Robin Hood (the score won an Academy Award)

1938-1939: Juarez

1939: The Private Lives of Elizabeth and Essex

1940: The Sea Hawk (Academy Award Nomination)

1941: The Sea Wolf

Kings Row

1942: The Constant Nymph

1943: Devotion

1944: Between Two Worlds

1944-1945: Of Human Bondage

1946: Escape Me Never

Deception.
Carroll offers some fascinating glimpses into how studio orchestras and music departments operated at the time. Korngold was so admired by, and deferred to, by studio executives that they allowed him the freedom to extend his influence to even the cutting of the film, to blend with the mood and pace of his music; this was unheard of then - and today - but Korngold was so respected that he invariably got his own way. He used the techniques of opera and used leitmotifs for his characters. He excelled in writing superbly heraldic passages for the peerless brass section of the Warner Bros. Studio Orchestra. He was extremely meticulous even to the extent of taking a careful note of what pitch or register the actors were speaking in and then he would score carefully so as not to interfere with it! He often remarked that the sound of Bette Davis's voice, particularly her nervous inflections and rhythmic delivery, inspired his music.
He would sit alone in the projection room improvising freely at the piano until his music matched the reel of film unfolding on the screen. He thoroughly enjoyed the working routine of the music department at Warner Brothers, especially the camaraderie of the orchestra. He liked to feel he was "one of ze boys", and became very fond of the musicians. As can be seen from the above schedule he demanded that he should score not more than two films within any twelve-month period. Compare that with the killing schedule of his rival at Warners - Max Steiner who composed the scores for eleven films in 1939 including the four-hour epic Gone With the Wind.
Eventually Korngold became disillusioned with Hollywood and returned to Vienna, after World War II, and to concert and operatic music only to find that his style was out of joint with the times. His later works for the concert hall: the Violin Concerto (1937-1939 rev. 1945) and the Symphony in F-sharp (1947) together with his last work for the stage, The Silent Serenade described as a comedy with music in two acts, composed between 1946 and 1950, were all derided and the expression, "more corn than gold" gained currency. From then on, his music was largely ignored until the 1980s. He died disappointed and disillusioned on 29th November 1957.
Korngold's last work for the film industry had been to arrange Wagner's music for a Republic Pictures' (a minor Hollywood studio) production about Wagner. The film was shot in Europe using dollars frozen there. Herbert J Yates, Republic's president visited Germany and announced that the studio planned to film "the life of George [sic] Wagner a love story with some music." Even though Korngold accepted the film director, William Dieterle's invitation, "on the understanding that it would be my artistic intention to use Wagner's music in its original form, without adding a single bar to satisfy the demands of the "background music" or changing the orchestration of the opera excerpts actually performed, the crass intervention of the studio executives in shortening the movie more and more from 150 minutes to 93, made the whole project ludicrous and the film quickly span down into second feature oblivion.
Brendan Carroll's book is very readable. Technicalities are minimised but used succinctly and tellingly. From its 464 pages, Korngold emerges as a warm personality kindly, meticulous about his music, careless of his appearance, full of good humour and addicted to chocolate. The volume includes copious extra notes on the text, a categorised list of works and a selected bibliography and discography. My only carps are trivial: I would have liked an additional straightforward chronological list of works and an inclusion of Eric's father, Julius Korngold, in the index.
A very firm recommendation. Ian Lace
KORNGOLD RECORDINGS NEWS


Brendan G. Carroll, the President of the International Korngold Society has sent us news of some interesting forthcoming new recordings of Korngold's music:-

Film Score: Devotion (complete) from Marco Polo

Suites from Films: Sea Wolf and Juarez from Koch International

First recording of Korngold's last opera Die Kathrin (fp 1939) on cpo

String Quartets from ASV

Piano Quintet/Suite for Left Hand from both ASV and Deutsche Grammophon

Symphony in F sharp and Sea Hawk Suite - Oregon Symphony cond. James DePreest from Delos

Piano album featuring items from films played by Alexander Frey on Koch International

Film Score: Elizabeth & Essex (complete) from Varèse Sarabande

Act I The Snowman plus world premiere recording: orchestral version of Fairy Pictures - Bamert/BBC Philharmonic on Chandos

Korngold Lieder album - Anne Sofie von Otter on DG

(Already available) First recording of Suite for Left Hand (with Trio) on Supraphon

(Recently released) Piano Album on CALIG that includes the world premieres of the Four Caricatures and Tales from Strauss performed by Michael Schäffer

There are also bootlegs of soundtracks to Sea Hawk, Sea Wolf, Juarez, The Prince and the Pauper, Robin Hood and Elizabeth & Essex all out on Tsunami label.


Other Korngold News

New Productions of Die tote Stadt are planned for Cologne (1999) and Strasbourg (2000). Plus the first ever modern staging of Die Kathrin at Trier in June 1999.



---
Return to Classical Music on the Web
Film Music Page
---