There's a fine line between a musician who can seize your imagination and a musician who's merely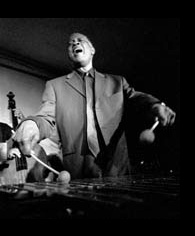 competent. The critic Ralph Gleason coined a term to distinguish good artists from the truly gifted, the talented from the ones who can change your life. He said that the great ones have the "X-Factor," an indefinable something that eludes most musicians. Gerald Wilson was talking about this same idea when he said, "Some people have it. Some people don't. Bobby's got it!"
Sometimes it's hard to describe what's so wonderful about Hutcherson's music because the qualities that make it so compelling can't be explained in words. You end up resorting to worn stock phrases: His music is pulsing with life. It's wide-eyed and open. It's fearless. It's healing. It's full of joy. But these words really aren't adequate. If you listen, you'll hear it. It's in the music. Bobby Hutcherson is a great musician. Bobby Hutcherson has it.
This site is my tribute to Hutcherson and his music.