by Annetta Hoffnung and Len Mullenger
All photographs and art work © The Hoffnung Partnership. Please respect this copyright.
---
IRREPRESSIBLE HOFFNUNG – AN EXHIBITION NOT TO BE MISSED!
The Frome Festival, Somerset (1st to 10th July 2005) is offering a rare opportunity to see the rich legacy of Gerard Hoffnung's life and work in an exhibition entitled 'Irrepressible Hoffnung'; this exhibition will continue throughout the month of July at Rook Lane Chapel, Bath Street, Frome, Somerset BA11 1DN.
Those who already know of Hoffnung's work will rejoice; those not yet familiar with his genius have a fabulous treat in store!
From the age of 5 till his sudden death at 34, he was extraordinarily prolific. He produced many hundreds of humorous drawings, mostly on a musical theme, illustrating his exuberant imagination; he played lovingly with the foibles and incongruities of everyday life. In his world, conflicts are settled by fly swatters, lions are tamed by brooms and even burglars are friendly!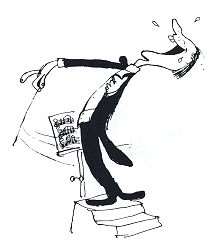 In addition (on a date to be confirmed), Gerard Hoffnung's widow, Annetta, will present an illustrated talk, 'The Humour of Gerard Hoffnung', in which she delves deeply into the rich treasure-trove of his legacy bringing one almost face-to-face with the man and his work. Using slides, recordings and her personal reminiscences, she offers a unique view of a man full of humour, vitality and joy in life.
For further information about the Frome Festival, you can refer to the festival website at www.fromefestival.co.uk.