Music on the Web (UK)
Music Webmaster Len Mullenger
---
Some of the Operas of Inglis Gundry
by Inglis Gundry
---
Photo: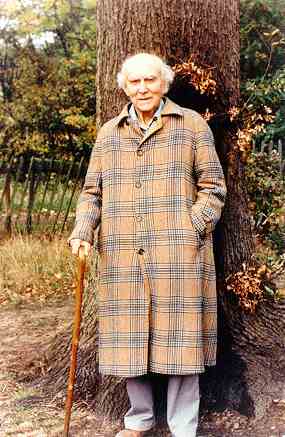 Inglis Gundry in 1990
My first opera was Naaman, The Leprosy of War written in 1937 and was based on Kings II.
My second Opera "The Return of Odysseus" is a particular favourite of mine because no other composers could have translated the libretto from Homer. The First Act, which was written in 1938, was performed before I joined the navy. The Second and Third acts had to wait until I became an officer in 1942 after I had left "The Welshman" but these have never been performed. My Prom Suite in 1943 ("Heyday Freedom") was based on themes from Act 1 of "The Return of Odysseus" .
My Third opera, "The Partisans", was the first to be performed, at the St Pancras Town Hall in 1943. It was a triumphant success, but left me with the slur that I was communist, which I had never been, because it was put on by the Worker's Music Association, who were known to have communist sympathies.
I wrote my fourth opera, "Avon" or "The Household Musician", partly to diffuse this slur. It is based on the story of John Wilbye, the Elizabethan madrigal composer, who is believed to have been in love with his employer, Lady Rivers. My John Hailey, who is household musician at Avon Feldon, is definitely in love with his mistress, Lady Laura who however, is forced to marry her neighbour, Lord Buckridge. He is a man "without music in his soul", who becomes caught up with the Essex Rebellion and is killed fighting his way out of the maze at Avon Feldon. This left his wife, Lady Laura, free to marry her household musician but somehow a marriage between two such different positions was unthinkable in those days. My John Hailey has to remain household musician to his Lady laura for the rest of his days.
Production Photographs of Avon may be seen here
My school opera, "The Horses of the Dawn", was written originally for a competition for libretti to be sent round to selected composers of whom I was not one. This was in 1950 as part of the half century celebrations. The composer who chose my libretto, on hearing who had written it, promptly sent it back to me with the injunction "You had better set it yourself". It was in this round-about way that I came to write my school opera that has never yet been performed. It is a setting of Euripides' "Rhesus" with the Homeric story of Odyseus' killing of Rhesus and carrying off his famous "Horses of the Dawn" away to a Greek camp.
My Sixth opera, the "Tinners of Cornwall" tells the story of the 18th Century Cornish Tinners who fought valiantly to keep tin mining alive in Cornwall after the discovery of a profusion of copper in Anglesey. In the First act the Cornish Tinners are triumphant. The Second takes us down into the gloom and dangers of the mine. The Third brings the closure of the Cornish mine through the discovery of copper in Anglesey and the discomfiture of the miners.
Some production photographs of The Tinners of Cornwall may be seen here
My Seventh opera, "The Logan Rock", my only really comic opera, was written for Miss Rowena Cade's open-air theatre, the Minack Theatre at Porthcurno in Cornwall. The Logan** Rock is visible when sitting in the theatre. It is based on a local legend of Treen Castle where the famous Logan Rock can still be logged and where Uncle Dan and An Venna once lived. When An Maggy, the local Wise Woman, kidnaps Meppyk Mere as a child for An Venna, it does not really solve their problem, but the resourceful An Maggy brings peace in the end by her "white magic".**(pronounced log as in bog)
Some production photographs of The Logan Rock can be seen here
My ninth opera, "The Prince of the Coxcombs" won the Morley college Opera competition in 1963. It was based on Vanburgh's "The Relapse" which Sheriden rewrote as "A trip to Scarborough". The libretto is unique among my operas in that it was originally written at his request for for Vaughan Williams when I was studying with him and I became very anxious to supply a libretto that he might use. About 30 years later, when I had forgotten all about this, I suddenly received it back from him with a letter saying: "I shall never compose it now, but why don't you write it?". It was not really my kind of subject. It had been originally chosen as a subject by himself or by some friend who suggested it to him, but it seemed like a command coming from so great a man. So I set it years after I had written it and it won the Morley College Opera Competition in 1963, where it was performed.
Some production photographs of The Prince of the Coxcombs may be seen here
About that time we had founded the Sacred Music-Drama Society, to give performances of 12th Century operas which I had discovered in the Fleury Book. Apart from the Easter and Christmas operas which we had already performed, there was a rather lonely work called "The Conversion of St. Paul". We had already performed this in a lunch-hour concert, but I perceived that another work could be written about the later life of St. Paul, especially designed to be performed with it, and this was the origin of my tenth opera, "The Prisoner Paul". It is in 2 acts, the first describing St. Paul's experiences in Jerusalem, with the night journey down to caesarea, Act II picking up the story at Malta and ending it at Rome.
My eleventh opera was performed at the Essex Hall in Kensington in 1985 - "A Will of Her Own". It was originally intended for a project to give operas in the Lake District and that is why it is based on a Lake District Legend. Lady Hesketh comes to King Arthur (who was apparently known in the Lake District as in Cornwall) to get redress from a Baron who is encroaching on her peaceful lake. King Arthur challenges him to a fair fight, but he refuses this and substitutes an irritating riddle: "What does a Woman love best?". The riddle is eventually solved by Lady Hesketh herself: "A will of her Own", but King Arthur, who has fallen in love with Lady Hesketh, turns to find her in the arms of his nephew, Gawain.
Some production photographs of A Will of Her Own may be seen here
My remaining operas, the 12th "The Rubicon", the 13th "Lindisfarne" the 14th "Claudia's Dream" and the last one, the 15th which is my favourite "Galileo", have not been performed.
The complete libretto of Galileo is in preparation and will be seen here.
---
Return to Front Page