Heitor VILLA-LOBOS (1887-1959) Bachianas Brasileiras Nos 1,2 5* & 9. Victoria de los Angeles* (soprano); Heitor Villa-Lobos conducting theOrchestre National de la Radiodiffusion Française. EMI 5 66912 2
---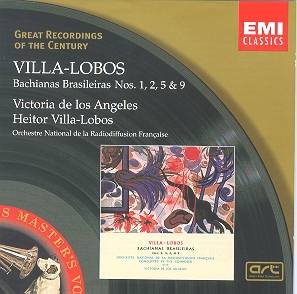 These celebrated recordings were made with the composer himself wielding the baton so we must regard his interpretations as definitive. Certainly this must apply to this recording of No. 5 (ingeniously scored for soprano and eight cellos) made famous by the sublime, effortless singing of Victoria de los Angeles. It's not just her beguiling way with the well known tune of the opening Aria (Cantilena) but just listen to the way she negotiates, with aplomb, the traps of the following Dança with its long held notes, serpentine harmonic and rhythmic twists and rapid fire staccatos.
This CD includes the 1st 2nd 5th and 9th Bachianas Brasileiras whereas the original 1957 LP, displayed on the cover of the CD booklet, included No.6 but omitted No.1 recorded two years later. Villa-Lobos was largely self-taught although he absorbed some of French influence during a stay in Paris. He researched deeply into Brazilian folk music and an intense nationalism is evident in his work. In many compositions he synthesised many different traditions of Brazilian music - colonial, Indian and urban - into his music.
He also had a deep veneration for Bach and in his Bachianas Brasileiras suites, he attempted to fuse the soul of Brazil with the spirit of Bach. One is continually impressed with the inventiveness in the contrapuntal writing and colourful orchestrations that explore some odd instrumental combinations and the unusual and arresting usage of those instruments.
Bachianas Brasileiras No. 1 is again scored for eight cellos. The first movements is predominantly genial with the composer exploring an impressive range of sonorities and rhythms. The central movement contrasts shadowy, emotionally intense material with a sentimental love theme while the last movement is a jazzy fugue.
No. 2 is scored for orchestra and is in four movements. In this suite the Bach connection is most tentative and the material the most programmatic. The opening movement is a vivid portrait of a Rio loafer (characterised by a tenor saxophone); one guesses that he is brash and tipsy and later you hear him riding his nag and romancing his gal; we now have an intriguing 'Song of Our Land' which is somewhat darkly introspective and it reflects the candomblés and macumbas of black voodoo cults; the third movement is a catchy Dança that swirls, slides and pecks - a trombone playing an important, slightly boozy role. But it is the last movement which lingers in the memory. This is a lovely evocation of little country train puffing along the track; it is very realistic with Villa-Lobos using most colourful and vivid orchestrations.
No.9 was scored for string orchestra and is slow and introspective with a rather remote feeling before the texture becomes richer and warmer, the music growing more animated and voluptuous.
A fugue concludes the work which oscillates between vitality and despondency.
The sound is variable from the very good to the acceptable. In the second suite some orchestral textures sound somewhat congested. Nevertheless this is another attractive album and it makes an ideal introduction to Villa-Lobos.
Ian Lace
---