DVORÁK (1841-1904) Piano Concerto.* SCHUBERT (1797-1828) 'Wanderer Fantasia'. Sviatoslav Richter (piano); *Carlos Kleiber conducting Orchester des Bayerischen Rundfunks EMI 5 66895 2 [59:30]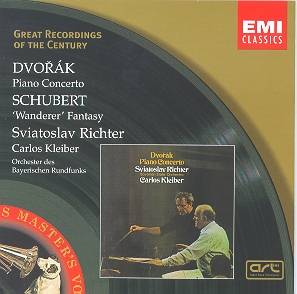 The Dvorák Piano Concerto recording dates from 1977, the Schubert from 1963.
The Dvorák Piano Concerto, dating from 1876, has always been overshadowed by its later and more celebrated, more often performed Violin and Cello Concertos. On the suface it shares non of the glittering showmanship bravura passages of so many other late nineteenth century piano concertos; and its themes do not linger in the memory as indelibly as those in Dvorak's other two concertos. Yet it has that kind of subtle, more restrained beauty and fascination that reveals itself more and more on repeated hearings. A work that has grown beautifully insidiously on this listener. This piano concerto certainly held a fascination for Richter and it was chosen by him, much to the surprise of his many admirers, for a Royal Albert Hall concert given during the heyday of his early celebrity. This recording followed soon after and it demonstrates his affection for the work. He is joined by Carlos Kleiber who did not make excessive numbers of visits to the recording studios but when he did it was often an occasion (One remembers his monumental recording of Beethoven's Fifth Symphony for instance). The collaboration of Richter and Kleiber lifts this work so that we can fully appreciate its strengths. It is a genial, high-spirited concerto; few shadows cross its path. Folk material is a strong element in its make-up. The long first movement (nearly 19 minutes duration) is consistently delightful with a lovely lyrical main theme that skips and dances along through the movement and reaches a very affecting climax at about 14:36. The Andante is very appealing with its misty, dreamily introspective pages, contrasting with faster more extrovert, sometimes wry, observations. Richter's reading, throughout, is a model of lucidity, poetic eloquence and glittering dexterity.
Schubert's 'Wanderer Fantasia' is monumental and monumentally difficult. Quoting from Bryce Morrison's notes: "Few pianists have been more closely associated with the Fantasie's alpine challenge than Richter, first amongst an élite able to subdue even the most ungrateful difficulties (including a notorious passage in running semiquaver octaves and shuddering tremolandi in the first movement, and final pages which pile Pelion on Ossa) leaving him free to concentrate on Shubert's purely musical quality. Implacable rhythm, a capacity to switch dynamic extremes without any loss of impetus, an almost viscereal force and manic propulsion offset by an uncanny conjuring of lyricism and stillness, are merely a few of the characteristics that make Richter a supreme master of the 'Wanderer' Yes, indeed; this performance had me sitting on the edge of my seat in awe and wonder, what more need I say?. Ian Lace
Performance

Sound