THE GRAINGER EVENT

St John's Smith Square, London Saturday 7th November - Sunday 8th November 1998

A report by Ian lace

The dynamic, indefatigable Penelope Thwaites, Artistic Director and master-mind behind The Percy Grainger Event was rewarded by a near capacity audience for her brain-child. It was a truly impressive gathering of Grainger experts from all over the globe.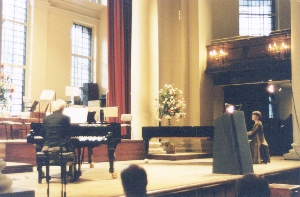 Penny Thwaites and John Lavender performing duo-piano repertoire (Saturday morning, Grainger event)
Philip Flood AO, High Commissioner for Australia in opening The Event commented: "Percy Grainger is one of Australia's greatest musical treasures, and his music continues to delight audiences throughout the world." The first item in a very crowded but exhilarating first day was a concert of Grainger works by The Kneller Hall Band which included Blithe Bells, 'The Lads of Wamphray' March, three movements from A Lincolnshire Posy and The Gumsuckers March as well as more well-known pieces like: Handel in the Strand, Country Gardens, and Shepherd's Hey.
Alessandro Servadei is the young and enthusiastic Assistant Curator of the Grainger Museum, Melbourne. In a fascinating illustrated talk, he took the audience on a conducted tour around the museum, commenting that it contained dummies with papier maché heads and hands of such people as Grainger's Frankfurt Group friends. Pictures of Cyril Scott and Roger Quilter were shown dressed in the clothes that they had donated. The museum also includes many bizarre items, shopping lists, vegetarian recipes, concert posters and advertisements, programmes and tickets, receipts postcards and 50,000 letters etc. Grainger was obviously a compulsive hoarder! One poignant exhibit is the piece he composed for his mother, A Birthday Gift, when he was 11. The score paper is bound in elaborately decorated board with hand stitching along the spine. We were also shown some of the many instruments in the museum including groups of bells and experimental machines, one sounding like a World War II air raid warning siren and another like a 'plane coming in to land. Everywhere you had the sense of a unique genius and an inquiring mind at work; a dulcitone, for instance, tinkered with using just wooden blocks and strategically placed nails to provide a soft pedal to produce the sort of sound Grainger employed in his arrangement of Ravel's La Vallée des cloches. Ella Grainger's paintings and her tile designs were also seen and some examples of Percy's bizarre but practical towelling clothes.
Over lunch, Lionel Carley spoke about 'Grainger and Grieg'. Lionel stressed that Grainger placed Grieg very highly in his pantheon of musical Gods - "Up there with Bach". He reminded us about how Grieg, on being asked who he would like to meet in London chose only the young Grainger. When Grieg heard Grainger play his works he was astonished by Grainger's sympathy, empathy, insight and sheer pianism, and regarded the young man as his ideal interpreter. This enthusiasm was both a help and a hindrance to Grainger. On the negative side, it prompted an element of self doubt in Grainger the composer because Grieg seemed to be more interested in Grainger the pianist. However Grieg's interest certainly opened more doors for him (he had been playing mainly in the homes of the rich) providing him with security of income and enabling him to continue composing.
The Saturday afternoon session compressed a number of shortish talks with live performances of Grainger's music by The Percy Grainger Chamber Orchestra. The orchestra's viola player, Nell Catchpole, opened in grand theatrical style playing, solo, Arrival Platform Humlet as she walked from the back of the hall through the audience to the stage. The orchestra then played My Robin is to the Greenwood Gone and later Mock Morris, Proud Vesselil, and Country Gardens. Penelope Thwaites and John Lavender (pianos) joined the orchestra to play Spoon River. Previously they had played Grainger's arrangement of Delius's Dance Rhapsody No 1 for two pianos and Penelope had played Bridal Lullaby to conclude Bo Holten's talk on Grainger and Denmark..
The afternoon talks, interspersed with the music, began with John Bird, Grainger's biographer, talking about Grainger, the pianist. Bird claimed that although many late 19th and 20th Century pianists had been dubbed great, in his opinion Grainger was one of the few really great ones. His playing was miraculous, brilliant with displays of dazzling bravura and pianistic ferocity. It had a real tragic/heroic quality; Grainger was a pianist who lived dangerously. Bird informed us that OUP should be publishing the revised version of his biography imminently.
Stephen Lloyd, another author of many articles on Grainger and a former editor of The Delius Society Journal, spoke about Grainger, Delius and the Dance. He emphasised Grainger's deep love and veneration for folk songs and dances and spoke about the similarities in outlook between Grieg, Delius and Grainger (and the other members of the Frankfurt Group) in their deep respect and interest in the genre and how they elevated the folk dance to the form of the symphonic dance.
Bruce Clunies Ross, born in Adelaide, specialises in studies of Grainger's Nordic influences and Nordic and linguistic interests. He spoke about Grainger's ideal blue-eyed Nordic man and a language, which would inform music, that was purely Nordic and untainted by influences begun in England after the Norman conquest.
John Amis introduced: Cara Aldridge Ham, an artist and cousin of Grainger, Stewart Manville who helped Ella bring order to Grainger's house in White Plains, New York after Percy's death (and subsequently married Ella), Alan Woolgar who had been associated with Grainger's publisher's Schotts for some fifty years and Desmond Scott, the actor/sculptor/writer son of Cyril Scott who had flown specially from Canada. All contributed fascinating memories of the composer. The subject of whips arose once or twice, thankfully mainly in connection with horses and horse racing but one speaker remembered seeing a whip mounted on the ceiling of one of the rooms in Grainger's house. John Amis introduced a recording of an interview he had had with the composer and confirmed the view of Grainger's brilliant interpretation of the Grieg Piano Concerto.
The afternoon session concluded with a presentation by film producer Andrew Pavord who has been responsible for the UK part of the Australian production of Passion, a film based on events in Grainger's life in London of 1912. The film is scheduled to be in the cinemas next year. Heading a cast of mainly unknown actors is American actress Barbara Hershey as Grainger's mother Rose. The young man who plays Grainger bears a close resemblance to the composer. Andrew showed colour slides of some of the scenes shot in Bath and the West Country.
In the evening there was the first of two Gala Concerts featuring Della Jones (mezzo-soprano), Stephen Varcoe (baritone) and James Gilchrist (tenor) partnered by Penelope Thwaites in a dramatic exploration of Grainger's songs. Of the twenty eight, sung with fulsome acting flourishes by Varcoe and Jones, I would just mention the haunting Shallow Brown, Brigg Fair, Died for Love, the wickedly witty Willy's Gang to Melville Castle and The Power of Love. Love at First Sight, Merciful Town, and Ride With an Idle Whip were given their first London performances.
The Sunday sessions began with a lunchtime lecture by Teresa Balough, Adjunct Professor of Music at Eastern Connecticut State University and one of the leading scholars on Grainger. Her subject was Grainger and 'The Jungle Book' and the enormous influence which Grainger's discovery of the works of Rudyard Kipling, as a young man of 16, had on the development of his musical style. She described The Kipling Jungle Book Cycle, a series of 11 works composed by Grainger between 1898 and 1957, as a concise statement of the philosophy of the life of both Kipling and Grainger: a love of the natural and the free; a belief in strength through courage and observance of natural law; and a distrust of the forces in civilisations which lead to cruelty, oppression, and a severance from nature. Grainger and Kipling both viewed art as a powerful tool for the expression of philosophy, a tool that could bind the world in one blood brotherhood, which Grainger expressed in The Kipling Jungle Book Cycle
The afternoon session began with a choral workshop in which people were invited to sing Grainger with the BBC Singers conducted by Bo Holten, the Danish composer and conductor (Karen Holten with whom Grainger had an intense relationship for eight years was Bo's grandfather's cousin.) During an interval there was more music from The Chapman Studio Soloists who performed The Merry Wedding for 9 solo voices conducted by Anthony Gray; and Grainger's eight-hand keyboard arrangement of the Bach Fugue in A minor was played by four boys from Eton College. Ye Banks and Braes O Bonnie Doon followed with whistling; and I'm Seventeen Come Sunday with the Kingston Brass.
After tea, which was served with Australian lamingtons (a small cake with a coconut covering), Barry Ould, in conversation with Wilfrid Mellers, discussed the challenges, opportunities and difficulties of Recording Grainger. Barry Ould mentioned the difficulty he often faced in tracking down not only the music but also the required combination of instruments in the often large quantities Grainger stipulated. He recalled the 47 violas assembled to play one work. Mellers contributions were sometimes missed because of his habit of dodging about and not speaking into the microphone which was a pity because some of his remarks about Grainger's music were quite penetrating. The highlight of the talk was a performance of Grainger's setting of the Londonderry Air on a Solovox (a precursor of today's electronic instruments) which Barry had discovered in a music shop not far away from Percy's New York home.
The event concluded with a grand multi-piano extravaganza for 2, 4, 6, 8,10 and 11 hands led by Penelope Thwaites, John Lavender and Wayne Marshall supported by Rhonda Gillespie and Anthony Gray. The first half, featuring the three main soloists, included Green Bushes, The Zanzibar Boat Song and the first public performance of The Widow's Party March. After the interval, the pieces played included Random Round with Barry Ould providing that 11th hand and Barry's realisation of The Keel Row in its first performance; and, as a fitting grand finale, Percy Grainger's The Warriors played by the three main soloists but with an added surprise. At the climax the curtains were drawn back to reveal the two trumpets, two french horns and two trombones of the Kingston Brass which added an extra magnificence. Penelope invited four more pianists, including her daughter Lucy, to join her piano band making nine in all (eighteen hands) to play two Grainger encores the second with the participation of the brass sextet.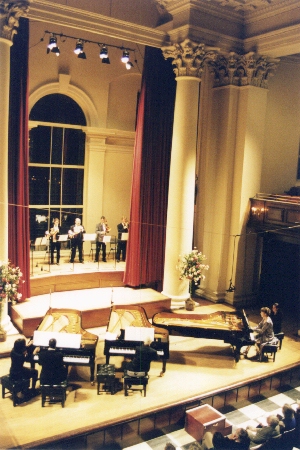 "The Warriors" as pefomed by three pianos and off-stage brass at the multi-piano extravaganza (Sunday night gala concert at the Grainger event)
Truly an event to remember!
Reporter: Ian Lace
---
Photographs from the Grainger Museum
Return to Front page