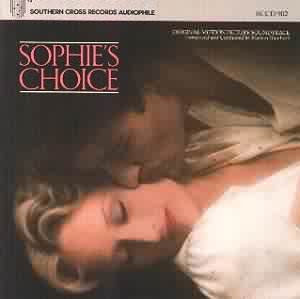 Did she ultimately make the right choice to save herself ? Book and film offer 2 answers. Hamlisch's score would have you at least assured that spiritually she found salvation. The ever-present 6 note "Love Theme" is a rich melody more often for wind ensemble than strings. It's constant use ties together the heartache and joy as one and the same thing. On this compact Compact Disc, there's just about enough of it without becoming over repetitive. It's also balanced by conflicting yet not distracting alternate styles or sourced tunes.
Mendelssohn's "Op. 30, No. 1" blends seamlessly, as do the traditional tunes woven into a couple of cues. The royal fanfare of "Coney Island Fun" may be the only thing that sounds out of place in context.
If you were moved by the film, be warned that the disc is likely to have the same effect!
Reviewer
Paul Tonks

Ian Lace is even more enthusiastic:-
Yes, indeed, this is music to tug at the heart strings. A wallow for unashamed romantics - and you may count me among those! Hamlisch is a multi-faceted talent composer, songwriter and conductor and multi-Oscar and Grammy Award winner. His hit shows include A Chorus Line and They're Playing Our Song. His film scores include: Ordinary People, The Way We Were, The Sting, and Three Men and a Baby. His hit songs include: 'The Way We Were', 'Nobody Does It Better' and 'What I did For Love'
Hamlisch's parents had fled from pre-war Vienna to New York. Their apartment became the meeting place for the city's finest classical musicians and Marvin studied at the Juilliard School of Music. His classical training is evident in the polish and depth of this score. There is a Handelian influence at work in 'Coney Island Fun' and a subtle influence of Dvorak in 'Nathan Returns.' There is also purity of classical line in a number of the cues such as 'Returning the Tray' a short elegy scored for just piano and cello. This pairing of piano and cello (an instrument that is particularly effective in suggesting autumnal, nostalgic moods and feelings of regret) is most affectingly used in the halting, almost prayer-like 'I'll never leave you'
The score for Sophie's Choice is beautifully crafted. The love theme which threads its way through this score and sets the prevailing mood is a gentle, lovely, warmly-glowing creation. I would mention just two cues. In the sumptuous 'Rite on the Brooklyn Bridge', the theme is given to the strings and Hamlisch fashions rich intricate textures. In 'Aren't Women All Like You' the music is almost ethereal with the flute floating over rapt string chords.
Highly recommended.
Reviewer
Ian Lace