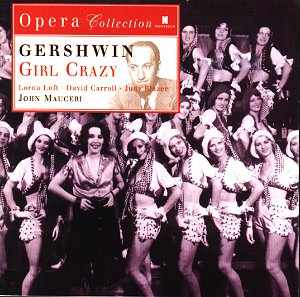 This album is a repackaging of the Roxbury recording released by Nonesuch in 1990. The original packaging include a sumptuous book with a number of fine essays about the show and the Gershwin brothers by such luminaries as Edward Jablonski. If you can find this edition (Nonesuch 7559-79250-2), snap it up. While this new mid-priced reincarnation lacks this extra enticement, its own booklet is still very commendable for it includes a full cast and description of characters plus an essay on the story and the show's production. Then there is a page devoted to Gershwin and his times before the meat of the booklet, the full lyrics of the show's 23 numbers. Finally, because this CD is one of a number of recordings in SONY's opera Collection, there is a useful guide to operatic voice terminology included on the inside back cover. (How Gershwin would have been amused/flattered to have Girl Crazy categorised as opera!)
Girl Crazy was filmed in black and white by MGM in 1943 as a starring vehicle for Judy Garland and Mickey Rooney. Sadly, it was a pale imitation of the original stage show and it dropped many of the numbers.
This recording follows the original Broadway production very faithfully, the orchestra playing in very much the style of the 1930s and the singers also faithfully following the vogue of those days. And what a show Girl Crazy was! One glorious number following on from another in a heady profusion with Ira's stingingly witty lyrics perfectly complementing George's sparkling tunes. 'Biddin My Time'; 'Embraceable You'; 'I got Rhythm'; and 'But Not for Me' - all super hits and still popular today. But the other melodies are also strong. The stirring 'Bronco busters', the torch song 'Sam and Delilah', the comic patter number, Treat Me Rough' and the colourful 'Land of the Gay Caballero' all impress. Mauceri's orchestra whoop it up with gleeful abandon and the lead singers all relish their numbers singing with great élan and expression. Only the greatest number 'But Not For Me' disappoints. Yes, I know it is sad but the delivery here is leaden; the only jarring note in an otherwise top notch production. Nevertheless, I still regard this album as just short of being completely outstanding.
Reviewer
Ian Lace

Reviewer
Ian Lace