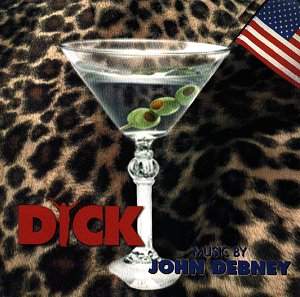 This album should be released commercially. It is far too good to be restricted to promotional-album backwaters. I was surprised when I received the other Dick album to discover, from the booklet listings, that John Debney had written the original music. Yet, not one note of his score was included on that disc (it comprised entirely 'pop' music, automatically disqualifying it from being reviewed on this site; so it is now pleasing my granddaughter).
Clearly the film (not yet arrived in the UK) is a satire on Watergate and 'Tricky- Dicky' Nixon. Debney has written an 'easy-listening' score that really stands on its own as a first class entertainment. It parodies many of the musical styles of the period and subtly lampoons numerous movies, their heroes and their associated music.
After 'Watergate Break-in' with Latin rhythm-based, stealthy music tinged with an air of buffoonery indicating Nixon's men's incompetence (?), we have the sparkling 'Skipping through Town.' This is a lively, swingy/smoochy number with vocals that remind those of us old enough to remember, of the Mike Sammes Singers. Through the score there are subtle reminders of The Man From Uncle - type music, and the James Bond theme. High-pitched string figures are reminiscent of John Barry's themes and Bernard Herrmann's Psycho music. Thinking of Herrmann, I also thought I noticed subtle references to Vertigo especially in 'The New Boyfriend.' There is much to enjoy here. 'Loungy-Dick' is a smooth, ever-so laid back jazzy number - a sort of horse trot with a horse you can't entirely trust! 'Lip Gloss Intrigue' is just that - dark-tinged fun! 'Dreams of Dick' is dreamily romantic with those little fairy bells showering their rather over-worked magic over the pillows.
An album that I will certainly be revisiting.
Reviewer
Ian Lace

and more from Helen San
After Debney's sensational Inspector Gadget, Dick is disappointing. The contrast is intriguing because both films are comedies, and both rely heavily on clichés for humor and satire. However, clichés are funny things. When they work, they can make a classic. When they don't, the scores sound insipid and predictable. Inspector Gadget works, and Dick never really catches on.
Speculating from the tracks on this album, it seems as if Debney wasn't given much to work with here. First, he appears to have been asked to simply provide filler cues, short tidbits of background music. Many of the tracks are under a minute long, and only the first track is over two minutes in length. Second, the songs and songtrack are the main attraction in this project. The score feels like something that wasn't given too much priority in the production of the movie.
Nevertheless, the score is not completely flat. One track that does stand out is "High School Band," a short-lived melody that actually has some kick to it. Debney's music has its characteristic twinkle and gleam. What is missing is the long form of a score, a main theme and developments that usually accompanies a feature picture. The closest thing to a motif is "Skipping Through Town," a post-hippie 70's no-brainer with "dabba-dabba da" vocals singing barefoot and carefree. There is a hint of it in "Arlene is Heartbroken" and "I Thought You Were Cute," and a reprise in the last track. Otherwise it is like the rest of the music, one cue for one scene. Debney does employ some stylistic consistency though. The score is permeated with the flavor of a cheesy 70's lounges and spy spoofs. Maybe it is because part of the 70's sounds emotionally sterile (what with the its nostalgic wholesomeness and breezy detachment), but the flavor is rather bland. The result is a score with good craftsmanship and great sound that actually listens like the background music that it is.
If you had to choose, get Inspector Gadget while you can. The score to Dick is probably best savored in the movie.
Reviewer
Helen San

We are grateful to Helen San (www.cinemusic.net) for giving us permission to include this review which is currently appearing on her Film Music site.