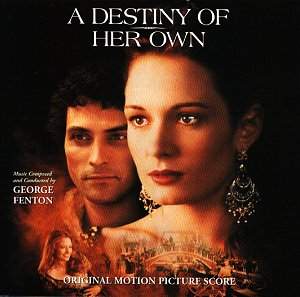 A Destiny of Her Own tells the story of Veronica Franco, a celebrated poet who was also a prostitute in 16th Century Venice. With a background of warfare and pestilence the film covers a lot of contradictory ground and therefore the producers required Fenton to deliver a score that would hold a precarious balance between these many disparate elements. George Fenton, was therefore an ideal choice - for he is a practised and magical musical juggler. Remember his opening titles music for White Palace? The Mozart piano concerto type music for the stiff James Spader character segueing into and balancing the jazz treatment of the same theme to suggest the more street-wise and older waitress, Susan Sarandon?
Fenton writes a score which is only partially 16th century in spirit. There are pastiches of courtly dances but the music is for a modern orchestra (with a lute/mandolin added occasionally for period colour). The style is late Romantic with a seasoning of neo-classical. There is tender, dreamily romantic and poignant music for Veronica's love interest. In contrast, there is darker music of intrigue, war and tragedy. Two of the most impressive cues are 'First Poetry Duel' and 'Second Poetry Duel'
'First Poetry Duel' begins hesitantly and insecurely but gradually the music gains a swagger that indicates the poet's growing confidence and ultimate triumph. 'Second Poetry Duel' has lots of Italian colour and exuberance - and buffoonery - until the music suddenly clouds over, cloaked with intrigue and suggestive of something far more dangerous.
I wish I could be really enthusiastic about this score. I am sure it does its job very well but it is all a bit bland. I have to say that I was reminded of a recent comment by someone on one of the film music web site discussion groups. He bewailed that the magic that was the film music of the Golden Age of Hollywood is no longer. I thought of this comment when I listened to the cue 'The Plague' and remembered David Raksin's score for Forever Amber and his brilliant and chilling evocation of the Plague of (17th Century) London. Fenton's music here is good but it does not reach Raksin's inspiration. A nice entertaining score
Reviewer
Ian Lace