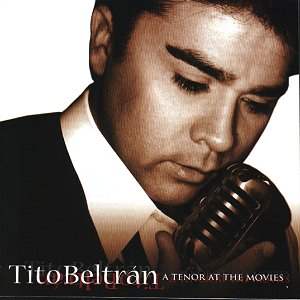 Programme:
A Tribute to Mario Lanza:
'Be My Love' (Brodszky/Kahn) The Toast of New Orleans
'Because You're Mine' (Brodszky/Kahn) Because You're Mine
'Because' (D'Hardelot/Teschemacher) The Great Caruso
'The Loveliest Night of the Year' (Rosas/Aaronson, Webster) The Great Caruso
and from The Student Prince :-
'Beloved' (Brodszky /Webster)
and by Romberg/Donnelly:
'Drink, Drink, Drink'
'Deep in my Heart Dear'
'Serenade – Overhead the Moon is Beaming'
Opera at the Movies Arias from:- Rigoletto; Tosca; Les Pêcheurs de Perles; La Fanciulla Del West; Pagliacci; Martha; and Turandot
Songs from the Movies:
'Mattinata' (Leoncavallo) The Great Caruso
'Torna A Surriento' (De Curtis/DeCurtis) Hear My Song
'Granada' (Lara) Because You're Mine
'The Second Time' (Lai/Rice) Bilitis
'Where Do I Begin' (Lai/Sigman) Love Story
'Mi Corazón Continuara' (My Heart Will Go On) (Horner/Jennings) Titanic
One is immediately struck by the remarkable resemblance of the timbre of Beltrán's voice to that of the late Mario Lanza. Nothing wrong with that – the Three Tenors have openly acknowledged their debt to the American tenor. Beltrán shares the same passion and feeling for the lines of the songs and his voice equals Lanza's power (sometimes it's too forceful for the material) to project over choir and orchestra without any sense of strain. Where Beltrán does disappoint is in his English diction and enunciation. 'The' becomes 'de'; there becomes 'der' etc., tending to spoil his Lanza reminiscences; but I nitpick for this really is an astonishing reminder of the sad wasted talent that was Mario Lanza. [The book Mario Lanza – A Tenor in Exile is reviewed on this site.]
Beltrán sings the favourite operatic arias listed above with passion and power if not always with subtlety. This popular programme concludes with three well-known Neapolitan songs featured quite regularly in movies and three original songs from recent or not too old films. The over-exposed, and already trite 'My Heart Will Go On' from Titanic is sung as 'Mi Corazón Continara' but even the novelty of another language coupled with Beltrán's ardour cannot lift it for this reviewer.
This is an album which will appeal to Lanza enthusiasts and, hopefully, will encourage more people to further explore the world of opera; and, clearly, former racing car driver Tito Beltrán is a young tenor to watch.

Reviewer

Ian Lace