Music Webmaster Len Mullenger

---

FILM MUSIC RECORDINGS REVIEWS

---

September 1999 Film Music CD Reviews Part 2

---
For those wishing to print these reviews without CD cover graphics there are scrolling copies available

© Film Music on the Web 1999. All rights retained. Reviewers retain copyright on their reviews. Disclaimer

COMPETITION WIN a CD of your Choice

Return to Part 1
Return to the September index
---
**************************************************************

EDITOR'S RECOMMENDATION – September 1999

**************************************************************
Leonard BERNSTEIN Wonderful Town Kim Criswell; Audra McDonald and Thomas Hampson. The London Voices and the Birmingham Contemporary Music Group conducted by Simon Rattle. EMI CDC5 56753 2 [66:46]

Wonderful Town, was based on the play My Sister Eileen, which in turn, was filmed by Columbia, in 1942, under that name, starring Rosalind Russell (Ruth) and Janet Blair (Eileen). It was filmed again in 1955 using the same title, this time with Betty Garrett, Janet Leigh, Jack Lemmon, Bob Fosse and Tommy Rall. Columbia were too mean to fork out for the winning stage-score and engaged Jule Styne and Leo Robin to write a substitute. It was no match for this Bernstein original.
Wonderful Town opened on Broadway in 1953 and ran for 559 performances. It starred Rosalind Russell again as Ruth, but with Edith Adams as Eileen. Today, Wonderful Town is largely overshadowed by Bernstein's other stage works like On the Town and West Side Story which is a pity as this sparkling new Rattle recording proves. Its story is about two sisters from Ohio and their wacky adventures in New York's Greenwich Village. Eileen's beauty enslaves the men, including half the police force in the very witty 'My Darlin' Eileen' in which they insist she is Irish because they think she "comes from Kilarney." But Sister Ruth just wants to become a successful writer. Bernstein's exuberant, jazz-based score is big and breezy especially in the colourful celebration of the larger-than-life characters of 'Christopher Street.' The score also embraces the conga, swing and rag forms. All the singers are excellent, attacking their characterisations with great enthusiasm and commitment, and relishing the sharp-witted lyrics of Betty Comden and Adolph Green. Audra McDonald as Eileen is sweetly sentimental in 'A Little Bit in Love' while Kim Criswell, as Ruth, is wickedly funny in 'One hundred easy ways to (loose a man). The ever-versatile and impressive Thomas Hampson is dreamily romantic in 'It's Love.'

This album is a real tonic. Outstanding.

Reviewer

Ian Lace

---
Ennio MORRICONE A Fistful of Sounds: A Fistful of Dollars. For A Few Dollars More. Once Upon a Time in the West. The complete soundtracks BMG Camden 74321 660402 2CDs [87:27]
BARGAIN 2CDs listed by Crotchet at only £8.99 the pair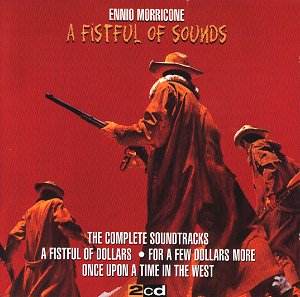 Spaghetti Westerns are inextricably associated with the director Sergio Leone, with Clint Eastwood and with the music of Ennio Morricone. The look, feel and sound of these films have become ikons of the 1960s; part of a wild collage which includes The Beatles, Psychedelia, long hair, Lambrettas, BSAs, leather jackets and lava lamps. In the field of classical music the avant-garde were moving well away from what melody-hungry audiences wanted. This tendency to experimentation and deconstruction found its way into Morricone's scores.

We have the original music soundtracks of three classic Morricone scored films. The sound is excellent: very immediate and with a subtle hint of graininess which captures the original experience of the films.

A Fistful of Dollars: The title sequence and Almost Dead grab the attention superbly. The music is sulphurous, with breathy flute, bells, simple melodic cells, abrasive guitar solos and the male chorus shout-singing 'We can fight!" The conventional Square Dance is a let-down but the other tracks are tense, reclusive, tender and dark as the night. The Theme from A Fistful of Dollars (track 7) has a cinder warm trumpet solo played and rolled with smoky muscular delicacy.

For A Few Dollars More is not separately identified among the tracks on disc 1. However it begins with track 9: Resa Dei Conti with music-box tinkling, black bass guitar, moaning choir includes a stormy loud organ solo worthy of Vierne, Widor or Saint-Saens (Symphony No. 3). Tense metallic sounds dominate Osservatoriu Osservati. A memorable guitar solo, reverberantly high in the clouds, is the central feature of Il Vizio di Uccidere.

Once Upon a Time in the West: The title track uses a theme that teeters perilously close to Roses from Amsterdam but by way of compensation there is a creamily vocalising soprano voice. The same honky-tonk Western saloon music claims Farewell to Cheyenne as well as Poker d'Assi (15) of the previous disc. Penderecki's Hiroshima Threnody seems to have inspired the howl of the dying in As a Judgment (2). There are many ear-tingling sensations in this score: dusty wastes, hurdy-gurdy fairylands, wailing harmonics, honeyed and hood-eyed viola solos (9), jokiness (complete with hideous swannee whistle), a slow distant scream of strings (11) shrill dithyrambs (13) and finally a silvery stratospheric vocalise in a theme that links with Tchaikovsky's Romeo and Juliet.

Morricone's scores are film music classics with much depth and variety. I can and do recommend this set.

Reviewer

Rob Barnett

---

Ennio MORRICONE La Musica, Il Cinema Roberto Fabbriciani (flutes); Massimiliano (piano) KOCH SCHWANN 3-1478-2 [56:42]
Rome-born film composer Ennio Morricone has more than 350 film scores to his name. His concert hall music is not as well known. In this disc the two worlds meet in a surprising and not always totally agreeable way. The Cadenza for solo flute and magnetic tape sounds decidedly exotic - a step onwards from Griffes' Pleasure Dome of Kubla Khan..The Four Studies (1980s) for solo piano are tougher going and alternate crepuscular sounds bedecked in atonal colours with rushes and storms which reminded me of the pianola music of Conlon Nancarrow. The Rag in Frantumi (piano) (1986) is more of the same although the rushes are potsherds of ragtime convulsions. Challenging and not at all in Morricone's accustomed style of honeyed romance.

That oxymoronic vein of sorrowing/joyous romance asserts itself in the last four tracks - arrangements for flute and piano of his film music. These all link with music he wrote for films between 1969 and 1979. Per le Antiche Scale muses in Poulencian purity, with hints of Fauré and Beethoven's Moonlight Sonata. L'Ereditta Ferramoniti is a perfect little nostalgic reflection, as is the musing Allonsanfan/Il Prato. Mosè is the song of a rather morose poet which in the piano voice links across to the peppery concert works which take up the first 6 tracks on the disc.

The performances seem dedicated, accomplished and fully engaged by the music. The notes are fine but regrettably are not a complete translation of the original Italian text. A disc for venturesome Morricone fans although it yields Dresden fragile charms for others.

Reviewer

Rob Barnett

---

John BARRY Raise the Titanic The complete Film Score Nic Raine conducting The City of Prague Philharmonic SILVA SCREEN FILMCD 319 [50:21]

I am very grateful to the editor for letting me review this disc. The OST tapes have disappeared along with most of the performing materials. Silva and Nic Raine (who better) have previously reconstructed and recorded a suite from the music. Here, however, is the complete score in full sombre glory. This is music that breathes the sea air and Northern romance stalks the icy beauty of its pages.

I thought of many classical cross-references as I heard the disc (which by the way is stunningly recorded). There is the passion of the big tragic theme from Prokofiev's Romeo and Juliet (titles and tracks 12 and Titanic enters New York Harbor) alongside the dark sea wastes and 'murmuring miles' suggested by Gösta Nystroem's Sinfonia Del Mare (a work that should be sought out by all film music aficionados!). Did I also detect a hint of the wide-screen vista of Tara's Theme from Gone with the Wind?

Some light-heartedness (and not a little nostalgia) comes over in To Cornwall and Memories of the Titanic. The plangent drowned romance of some sunken ballroom (6) is also there. There are some deep bass songs in this score and the inky depths are memorably suggested page after page. Deep Quest Saved (coming after the spectacular grand theme complete with echoes not only of Prokofiev but also of Korngold and Herrmann) takes us back to romantic James Bond territory - already a domain well and truly John Barry's. It also is not far away in terms of excellence from Barry's love music from the King Kong remake.

The string tone of the Praguers is very acceptable and the brass are superbly caught. Shortish running time seems an irrelevance this time! This is one of my all-time favourite albums. It is enhanced by David Wishart's detailed notes (English only) in his usual fresh unhackeyed style.

Reviewer

Rob Barnett


Ian Lace has a rather different opinion -

Straightaway I have to confess to having a deaf spot for the music of John Barry. With few exceptions, like Somewhere in Time, and while I appreciate his melodic gift, Barry's work does not impress me. So, when a recording of his film music comes my way I usually pass the disc onto a more sympathetic reviewer. However, since I am writing this review during the summer vacation with scarce reviewer resources (although Rob kindly agreed to review the CD after I had written these words), I decided to make an exception in this case and cover this release resolving to be objective. I have to say, that as usual, I was disappointed. So readers will therefore pity me for not understanding or enjoying Barry's idiom, hate me or cheer me according to their inclinations.

I thought the main themes undistinguished and their development and orchestration limited. Scratch the surface of much of this lugubrious music and, with only slight modification, it has all been used before in the Bond films and other earlier Barry scores. Again, there are those high strings accompanied by plodding terribly earnest horns that stalk the score from one end to the other, an orchestration device that Barry flogs to death. Thankfully they sound increasingly elated as the Titanic surfaces and is escorted into New York harbour. Why is it I wonder that John Barry's music always sounds as if it was recorded in an echo chamber or an immense toilet? There is some relief in a brief shanty in 'To Cornwall', what is described as a chaste waltz variation, and a piano and saxophone led cue 'Memories of Titanic'
Come back James Horner and Titanic all is forgiven!

Reviewer

Ian Lace

composition performance

SILVA SCREEN responded to Ian Lace thus:-

While (obviously) applauding the 5-star review for RAISE THE TITANIC - although isn't "shortish running time" a bit harsh when we recorded every last note of the score and are still 20 minutes longer than most American score albums - I find it rather odd that a self-confessed non-Barry fan should also review the same album. I don't really think that this is being particularly objective as RAISE THE TITANIC is the quintessential Barry score, so the declared bias against his music is always bound to rise to surface. (dreadful pun intended) However not liking the music is one thing but surely the performance cannot be faulted? (mind you, I would say that being the Producer!) Maybe a duel rating should be introduced: one set of stars for the actual composition and one for performance/recording quality? This might also help when reviewing both modern and historical recordings?

Ian Lace's final word:-

Agreed it is unusual for a self-confesses non-Barry fan to speak out. I wrote in the spirit of devil's advocate expressing a purely personal point of view (How many critics will confess to personal dislikes or explain them ? How many editors bother to ensure their critics are not demonstrably antagonistic to the composer?). Regarding my view of this CD and Mr Barry's music in general I remain unrepentant but I will revert to my established practice and pass on all Barry music to my reviewers in future. I take Silva's point though about separating ratings for composition and performance. So, taking this Raise the Titanic album I award: for Silva for John Barry's composition .

I will now retire to reach for my shield as irate Barry fans prepare to launch missiles at me in our chat room or bulletin board.

Ian Lace
---
Collection: Prelude to a Kiss Plácido Domingo (tenor) and Renée Fleming (soprano) with the Chicago Symphony Orchestra conducted by Daniel Barenboim DECCA 460 793-2 [60:32]
Programme comprises:
Leonard Bernstein: Prologue; 'Tonight'; Rumble; 'Somewhere' (West Side Story)
Gounod: Il se fait tard…Ô nuit d'amour! (Faust)
Gardel: El dia que me quieras
Moreno Torroba: Quisiera verte y no verte; Jota castellana;
Verdi: Già nella notte densa (Otello)
Duke Ellington: In a Sentimental Mood; Do Nuthin' till You Hear from Me; Prelude to a Kiss
Lehar: Dein ist mein ganzes Herz (Das Land des Lächelns); Lippen schweigen (Die lustige Witwe)
This compilation was recorded live during a concert at Orchestral Hall in Chicago on January 28th 1998. Renée Fleming's voice has a considerable range and her expressive powers are equally impressive. Comment on Domingo is superfluous.
The programme opens with a vibrant reading, full of disdain and rebellion, of the Prologue to West Side Story from the Chicago orchestra. When Kiri Te Kanawa and José Carreras recorded the complete production of West Side Story, under the direction of the composer, for DG in 1985, many of my colleagues, and myself, commented that they sounded too old for their parts as the teenage lovers. The same comment applies here. It all depends on your taste and attitude – whether you consider that West Side Story has aspirations towards the opera stage or whether it should be regarded as a sophisticated musical. I favour the latter appreciation. Fleming, especially, brings too much of the opera house to her Maria destroying her character's vulnerability and fresh spontaneity. Her singing here is too mannered for my taste.

The operatic excerpts are much more successful. Gounod's Faust duet is well nigh perfect. Fleming as Marguerite beautifully conveys both the elation and fright she feels at the ardent advances of Domingo's Faust. In the Otello duet, heard before the onset of Iago's corrosive influence, Domingo in the title role is virile as he boasts of his military exploits and full of ardour as he confirms his love for a compliant yet passionate Desdemona (Fleming).

Domingo enjoys the tangy Spanish rhythms and inflections of the three traditional songs accompanied by Barenboim at the piano. Carlos Gardel's El dia que me quieras ('On the Day that You Love Me') is gently ardent; the amusing Quisiera verte y no verte ('I do and I don't Want to See You') finds the singer in a quandary of whether to pursue and surrender to love (and probably enslavement) or whether to flee and preserve his liberty; and Jota castellana is a beguiling little song speaking of the lover's tenderness for his beloved.
Fleming has three songs with jazz-based music by Duke Ellington. They give her the opportunity to display her considerable technique. In a Sentimental Mood her voice goes soaring, arching, gliding and is held in its high registers while embracing the tones and inflections of a typical coloured blues singer. In Do Nothin' till You Hear from Me, the smoky lower reaches of her range are used with an engaging syncopation. The lines, "When we're apart, the words in my heart reveal how I feel about you..." give her the opportunity to display some engaging ambivalent coquettery while she shows how good a jazz singer she is in her improvisations during the closing moments of the song. The lovely Prelude to a Kiss allows her to develop this improvising still further.

Finally there are the two Franz Lehar numbers with Domingo singing Dien is mein ganzes Herz with the depth of feeling we used to associate with Richard Tauber. Domingo and Fleming team up for a glittering final duet, the Waltz song from The Merry Widow.

Except for the West Side Story numbers, recommended.

Reviewer

Ian Lace
Rob Barnett thinks:-
This is a very mixed anthology. Much that is here will give great pleasure. Quite a bit is compromised.

Fleming and Domingo fans can perhaps choose to ignore my reservations. I write however as neither. I am quite neutral towards both artists.

A celebrity album - it is given the full Decca treatment: De Luxe slipcase, ditto booklet, romantic portrait of Domingo and Fleming, full side-by-side translations from original language into (as appropriate) German, French and English. The West Side Story tracks do not have translations into French and German due to copyright factors.

The timing is a bit parsimonious but no doubt the big name factor cures all.

Although not declared or claimed my first thought and expectation from the packaging was that this would be a collection of duets featuring the two protagonists. Wrong! Four of the fourteen tracks are duets. Two are purely orchestral. Four each for Domingo alone (including three Spanish songs) and Fleming alone (including three Ellington tracks).

The singing is operatic and rather adipose. This maturity of voice can be particularly worrying in the Bernstein duet: Tonight. Here is music of dangerous love. The music should have a tetchy voltaic charge. Heck this is about a teenage Romeo and Juliet situation! Here it often succumbs to middle-age spread and I refer also to the orchestral contribution. The prelude is rather slack but the orchestra brightens for the Rumble. In fairness Tonight is often sheerly beautiful and Fleming is simply breath-taking in modulation and finessing of dynamics on the words "We'll find a new way of living" in Somewhere.

Gounod's Faust: Il se fait tard and O nuit d'amour: Domingo's French pronunciation of 'laisse' and 'caresse' as 'laissez' and 'caressez' struck me as odd although this may represent operatic tradition. In any event his duet with Fleming is warmly done.

The orchestra then drops out of the picture and Barenboim returns to his first love, the piano, and accompanies Domingo most sensitively. Domingo knows this repertoire very well and seems completely at ease with two lovely songs by Moreno Torroba (Quisiera verte and Jota Castellana - the latter a gem of a discovery for me) and one by Gardel (El día que ma quieras). In the Gardel track Domingo's voice drifts queasily between the speakers at 1.24.

Three Ellington songs are as arranged (in Ravelian impressionist style) by Larry Ham. Fleming is here in major cross-over territory (as both were in the Bernstein tracks). Is she suited to the repertoire? I am not completely convinced but the jury is still out on the point. Her singing often seems effortful (especially in In A Sentimental Mood. On the other hand she often produces the most magical effects: listen to her bluesy melismatic ululation between 3.00 and 3.20 in track 10. Do nothin' till you hear from me is gutsily defiant. In Prelude to a Kiss (the album name-track) her 'big girl' voice represents a stylistic collision with the music. Still her quasi-sprechgesang and the warm meander of her voice across the bars will cheer the chilliest heart.

The final two tracks are Lehár's Dein ist mein ganzes Herz and Lippen Schweigen. The former left me feeling that a rather queasy hand was at the orchestral tiller and Domingo, though perennially warm of voice, suffers from a slight wobble which I find distracting. The final Lippen Schweigen is charmingly done by the two stars.

Difficult to mark this one. It is such a strange mix of genres and achievement. I have catalogued my reactions as they came to me: both pleasures and disappointments. Track by track marking might have produced a very wide spread from two stars to four and a half. The overall mark is really an average impression.

Reviewer

Rob Barnett

---

Collection: A Tenor at the Movies: Tito Beltrán with the City of Prague Philharmonic Orchestra and the Crouch End Festival Chorus conducted by Paul Bateman SILVA CLASSICS SILKD 6019 [70:31]

Programme:
A Tribute to Mario Lanza:
'Be My Love' (Brodszky/Kahn) The Toast of New Orleans
'Because You're Mine' (Brodszky/Kahn) Because You're Mine
'Because' (D'Hardelot/Teschemacher) The Great Caruso
'The Loveliest Night of the Year' (Rosas/Aaronson, Webster) The Great Caruso
and from The Student Prince :-
'Beloved' (Brodszky /Webster)
and by Romberg/Donnelly:
'Drink, Drink, Drink'
'Deep in my Heart Dear'
'Serenade – Overhead the Moon is Beaming'

Opera at the Movies Arias from:- Rigoletto; Tosca; Les Pêcheurs de Perles; La Fanciulla Del West; Pagliacci; Martha; and Turandot

Songs from the Movies:

'Mattinata' (Leoncavallo) The Great Caruso
'Torna A Surriento' (De Curtis/DeCurtis) Hear My Song
'Granada' (Lara) Because You're Mine
'The Second Time' (Lai/Rice) Bilitis
'Where Do I Begin' (Lai/Sigman) Love Story
'Mi Corazón Continuara' (My Heart Will Go On) (Horner/Jennings) Titanic
One is immediately struck by the remarkable resemblance of the timbre of Beltrán's voice to that of the late Mario Lanza. Nothing wrong with that – the Three Tenors have openly acknowledged their debt to the American tenor. Beltrán shares the same passion and feeling for the lines of the songs and his voice equals Lanza's power (sometimes it's too forceful for the material) to project over choir and orchestra without any sense of strain. Where Beltrán does disappoint is in his English diction and enunciation. 'The' becomes 'de'; there becomes 'der' etc., tending to spoil his Lanza reminiscences; but I nitpick for this really is an astonishing reminder of the sad wasted talent that was Mario Lanza. [The book Mario Lanza – A Tenor in Exile is reviewed on this site.]
Beltrán sings the favourite operatic arias listed above with passion and power if not always with subtlety. This popular programme concludes with three well-known Neapolitan songs featured quite regularly in movies and three original songs from recent or not too old films. The over-exposed, and already trite 'My Heart Will Go On' from Titanic is sung as 'Mi Corazón Continara' but even the novelty of another language coupled with Beltrán's ardour cannot lift it for this reviewer.
This is an album which will appeal to Lanza enthusiasts and, hopefully, will encourage more people to further explore the world of opera; and, clearly, former racing car driver Tito Beltrán is a young tenor to watch.

Reviewer

Ian Lace

---
NOSTALGIA and CURIO CORNER:
This month we kick off with two Original MGM Broadway Cast albums, from RYKO, of two musicals based on two hit films directed by Billy Wilder: The Apartment (Promises. Promises) and Sugar (Some Like It Hot):-
Burt BACHARACH Promises, Promises [Book: Neil Simon; Lyrics Hal David] Jerry Orbach; Jill O'Hara, Edward Winter and the Original Broadway Cast. RYKO/MGM RCD 10750 [44:44]
Promises, Promises based on Billy Wilder's film, The Apartment, that starred the fabulous Shirley MacLaine and the wonderful Jack Lemmon ran for three years and 1,281 performances. The show won a Tony Award and this album several Grammies.

Burt Bacharach's music is very much of its time – shades of the Bossa Nova and Tijuana Brass - frankly it sounds really old-fashioned now. The lead singers Jerry Orbach (in the Lemmon role) and Jill O'Hara (in the MacLaine) are enthusiastic and reprise the film actors' characterisations well. The numbers are sunny and upbeat; giving an overall more breathlessly exuberant impression than the rather shadowy poignancy of the story needed, perhaps. The big hit 'I'll Never Fall in Love Again' is sung in a suitably astringent manner by Orbach and O'Hara though. This great Bacharach song with its clever lyrics (like: "…what do you get when you fall in love? – enough germs to catch pneumonia …and he'll never phone yer!) would go on to be a major hit, independent of the show, in more lush or brash arrangements depending on the artists who delivered it and the song collections in which it was packaged.

The other romantic sentimental songs are: 'Whoever You Are' and 'Knowing When to Leave' the latter song also achieved success independent of the show. The other, mostly patter songs are so-so and forgettable but the breathless, tongue-twisting snake-like rhythmic 'She Likes Basketball' is a plus; it tests Orbach's stamina to the limit.

Reviewer

Ian Lace

---
Jule STYNE Sugar [Book: Peter Stone; Lyrics: Bob Merrill] Robert Morse; Tony Roberts, Cyril Ritchard and Original Broadway Cast. RYKO/MGM RCD 10760 [48:01]
With the exception of a single very good song this disc simply demonstrates the stultifying lack of surprise and individuality that became the norm for the American musical. Time after time I thought of Stephen Sondheim's Follies which seems at the same time to both caress and lampoon the mainstream from which Sugar comes. Follies stands far above this theatre fodder.
Sugar's music is brassy, obvious and still-born. None of the light hand obvious from the film on which it is based (Wilder's Some Like It Hot). Oh there's no doubt that the music zips brazenly along like an Edsell on paraffin but the movement is the movement one expects from a decayed corpse when an electrical current is passed through it. I am sorry to be so dismissive but this is a dismal musical with one bright exception.
Let's end on the positive. What is the exception? This is the song It's Always Love (sung by Tony Roberts) and I cannot recommend it too highly. Do try to hear it. It is a sardonic celebration of love - regretful and tragic. This, with its minimal music and straight presentation, cuts through the thin tinsel and neon motor that passes for a heart in musicals of this ilk. This song draws blood! A treasure and the reason why this musical scores any stars at all. A five star song set amid a soulless wasteland.
Little background on the musical is provided in the leaflet although all the artists are well profiled. The presentation is well up to Rykodisc's usual and exemplary high standard.

Reviewer

Rob Barnett

---
Percy GRAINGER Short pieces for piano Janine Sowden (piano). ASV CD WHL 2117 [78:00]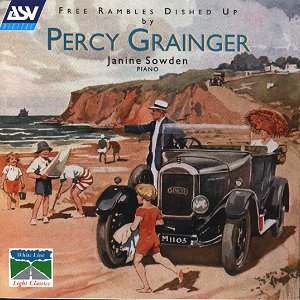 The reason why this album is included is that a new film about a period in the life of the larger-than-life composer, Percy Grainger, is about to reach theatres and it is likely to be as controversial as the recent film about Jackie du Pré.
This is a most engaging programme of 18 varied pieces performed with power and sensitivity by Janine Sowden. The music is described as Free Rambles dished up by Percy Grainger and that signals that you should expect the unexpected. Bach's great organ work, the Toccata and Fugue in D minor receives the Grainger treatment and is served up in the composer's unique flamboyant style. There is then a delightful meander through the 'Last love duet from (Richard Strauss's) Der Rosenkavalier.' Grainger arranges his tour so that we may anticipate wedding bells for Sophie and Octavian as well as being reminded of the Presentation of the Rose from Act II of the opera. Tchaikowsky gets the Grainger treatment too with a humorous take on his Flower Waltz, so too does Elgar with a surprisingly straight rendition of Nimrod from the 'Enigma' Variations.

Additionally there are arrangements of Grainger's own compositions including: Colonial Song and Country Gardens. Of interest to film music fans will be the inclusion of Grainger's idea of three Gershwin mumbers: 'Love walked in'; 'Embraceable You' and 'The man I love.'

Recommended

Reviewer

Ian Lace

---

Collection: TREASURES OF OPERETTA Marilyn Hill Smith (sop); Peter Morrison (bar); Ambrosian Singers; The Chandos Singers; The Chandos Concert Orchestra condcuted by Barry Knight 2CDs CHANDOS CHAN 7131(2) [139:13]
This is a sparkling collection of 36 operetta selections. The many composers represented include: Johann Strauss II, Oscar Strauss, André Messager, Victor Herbert, Emmerich Kálmán; Franz Lehar; Carl Zeller; Lionel Monckton; Carl Millöcker; Robert Stolz; Carl Michael Ziehrer; and Richard Tauber. Many of the tunes will be familiar even if the names are not, like the lovely 'Let me dance and let me sing' from Die Csárdásfürstin by Kálmán and 'My Hero' from The Chocolate Soldier by Oscar Strauss. Favourite operettas are included: The Merry Widow, Casanova, The White Horse Inn and Merry England
The performances may not reach the peaks achieved by the Viennese orchestras and singers like Hilde Guedon, Renate Holm, Gundala Janowitz, Erik Kunz, Werner Krenn and Richard Tauber, nevertheless the Chandos artists show great enthusiasm and commitment. Marilyn Hill Smith's light soprano voice is ideal for many of these songs and her colaratura singing is very impressive in operettas like Der Schätzmeister (Ziehrer), and Der arme Jonathan (Millõcker) in which she her voice soars over 'The Doleful Prima Donna.' She is marvellous as the amusing Sybil (Jacobi) in which she sings the marching song 'The Colonel of the Crimson Hussars.' Where she is not so successful is in the later operettas of Lehar where he was approaching the style of grand opera. In Giuditta a smokier more seductive voice (like that of Hilde Gueden) is needed to successfully put over 'On my lips every kiss is like wine.'
Peter Morrison is a strong if adenoidy hero. He colours his voice so that he sounds extraordinarily like Richard Tauber and Nelson Eddy when he comes to sing those numbers associated with them like 'My Heart and I' from Old Chelsea and 'At the Balalaika' from Balalaika (Victor Herbert) respectively. He is a robust and ardent romantic hero and a staunch patriot in the stirring 'The Yeoman of the Guard from Edward German's Merrie England. Morrison is also charmingly witty, when he muses over his many lady friends, as he endures the rigours of 'Military Life' from Der Fremdenführer; and as he despairs about his wife's figure in 'Thin, thin is my Gwendolin' from Ziehrer's Die drei Wünsche.
The choirs give staunch support as does the Chandos Concert Orchestra under Barry Knight who points up the often hilarious subtleties of the music like the orchestral horse laughs that comment on the heroine's 'Scale Song' from Ziehrer's Der Schätzmeister.
In conclusion I must mention the very impressive rendition of Johann Strauss's 'The Nun's Chorus and Laura's Song from Casanova.
An enchanting collection.

Reviewer

Ian Lace

---
**************************************************************

EDITOR'S RECOMMENDATION – September 1999

**************************************************************
Collection: Ca c'est Paris! A celebration in 24 Vintage tracks 1927-1948 Marilyn Hill Smith (sop); Peter Morrison (bar); Ambrosian Singers; The Chandos Singers; The Chandos Concert Orchestra condcuted by Barry Knight ASV CD AJA 5285 [73:20] £7.99

This collection sparkles and bubbles like vintage champagne. Here are 24 songs full of Joie de vivre and sometimes a little triste but all celebrating the City of Lights and Love. Many of the artists and many of the songs have appeared in films created in France and Hollywood. Heart-throb Tino Rossi, for instance, appeared in over 25 and, of course Maurice Chevalier was singing in those wonderful Paramount musicals of the late 1920s and early 1930s and right up until his appearance in Gigi (and beyond).

Chevalier had a long standing affair with Mistinguet, the star of the Folies-Bergère. It is her gravely voice that opens and sets the atmosphere for the programme with her ebullient rendering of the title song of this album. Period dance bands add nostalgic charm like the great accordéonist Maurice Alexander and his Orchestre Musette playing 'Sous Les Toits de Paris' and 'C'est Paris'. Chevalier sings 'Paris Stay the Same' from the film The Love Parade and 'Place Pigalle'. That other wonderful song 'Pigalle' is sung with lovely French emphases by Georges Ulmer and Marius Coste and his Orchestra. The incomparable Edith Piaf sings 'Les Amants de Paris'; Jean Sablon sings 'Paris, tu n'as pas change' and George Guetary, 'I dreamt I was back in Paris.'

Then there are songs praising 'Paree' by non-French artists including: Al Bowly, Rudy Vallée, Tony Martin and Noël Coward singing 'The Last Time I saw Paris.'

The title song of the Doris Day film April in Paris is also here but sung by Les Allen with Henry Hall and The BBC Dance Orchestra!

A wonderful bracing collection, ideal to cheer long car journeys.

Reviewer

Ian Lace

---
Collection: Forces' Sweethearts - 23 Songs from the Heart-Throbs of World War II ASV CD AJA 5260 [71:33]
Collection: Forces' Sweethearts - 23 Songs from the Heart-Throbs of World War II
Vocalists: Judy Garland – Vera Lynn – Martha Raye – Connee Boswell – Peggy Lee - The Andrews Sisters – Ella Fitzgerald – Elsie Carlisle – Helen Forrest – Lena Horne - Maxine Sullivan – Dinah Shore – Frances Langford – Deanna Durbin – Anne Shelton - Jo Stafford – Doris Day – Mary Martin
These singers comforted and reminded the men who fought bravely in the far-flung theatres of war of their wives, sweethearts and families back home by the popular female vocalists of the day. For the British it was undoubtedly Vera Lynn who dominated. She is represented in this collection by two unforgettable songs: 'The White Cliffs of Dover' and 'We'll Meet Again' The American troops were entertained by such great stars as The Andrews Sisters who brought a very upbeat and often witty style to their singing of such favourites as ' Boogie Woogie Bugle Boy' and 'I'll be with you in Apple-Blossom time'; plus Frances Langford who sings 'Serenade in Blue' here and Dinah Shore, 'Skylark' and 'I'll walk alone.'
I will admit to being of an age (just) when the songs on this album were heard regularly on the radio. I recalled, with affection, Lena Horne singing 'Stormy Weather'; Peggy Lee's 'The way you look tonight'; Deanna Durbin with 'Say a prayer for the boys over there'; Anne Shelton singing 'Lili Marlene' and 'I'll be seeing you'; and Elsie Carlisle and 'A nightingale sang in Berkeley Square.'
A wonderful nostalgic trip

Reviewer

Ian Lace

---
Sarah O'Brien (cello) - dans mes rêves je reviens (with Claudine Lapointe, piano)

Self Promotional CD001 http://www.sarah-obrien.com

The delectable Miss O'Brien and her partner spin their charms over arrangements of well-known and not so well known works comprising a programme that will enchant, late on a cold winter's evening while gazing into a log fire. From nine selections, I would mention appealing renditions of Sondheim's 'Send in the Clowns' and the main theme from John Williams's Schindlers List score; both poignant and both admirably suited to the autumnal colours of the cello. Ms Lapointe's accompaniments are as delicate and imaginative as they are appealing.

Sarah was born and raised in England but moved to Los Angeles in 1993 where she now works as a studio player in addition to touring and varied live work. She can be contacted on: obriensl@ix.netcom.com and her web site is: http:www.sarah-obrien.com

I wish Sarah and Claudine well.

I must rule that this is the one and only time that Film Music on the Web can accept such material for review otherwise the flood gates would open and we would be inundated inhibiting our time to review film scores. So please, artists, do not approach us with similar CDs because I regret you will be disappointed.

Ian Lace

---

Book Review

Halliwell's Who's Who in the Movies Harper Collins Entertainment 600 pages + £16:99 (UK Price) Amazon

(Note: The Amazon American cover is different)

This new volume replaces the trusty Halliwell's Filmgoer's Companion (last edition: 1997) published in twelve editions over the last thirty-or-so years. Together with Halliwell's Film and Video Guide (shortly to appear in its 2000 edition - watch this space), this new volume is a treasure of information for all movie fans; and, incidentally a very useful tool for journalists like myself.

Halliwell's Who's Who in the Movies has an additional 200,000 words over the last edition of the Filmgoer's Companion. There are details not only about composers, but also of the stars of today, yesterday and tomorrow, about the bit players and the character actors, the producers, the writers, the cinematographers and all the other talents involved in the making of motion pictures.

In this new book, there are year-by-year listings of Oscar-winners, of leading festivals and of critic's awards. There is a brief history of the movies. There are lists of top movies, and of movie books and periodicals; and a glossary of technical terms. The new media are not forgotten. There are details of Movie Guides on CD-ROM, and of movie resources on the net.

Turning to our interest, the careers of all the major Golden and Silver Age composers are included, with reasonably comprehensive lists of their compositions although one might argue with the selections of films scored by Max Steiner for instance. The work of today's composers is included too. Looking up Thomas Newman, for instance, I notice his career is covered up to Meet Joe Black, his 1998 score; and Danny Elfman up to A Simple Plan. There are omissions however, there is no entry for John Ottman, for instance (The Usual Suspects, Lake Placid etc).

A minor gripe: the contents page indicates that there are page numbers, yet in the copy I have the pages are not numbered (perhaps these were eliminated in the guillotining process during printing?). Fortunately, this is not a vital error, because, of course, the main entries that form the bulk of the book are arranged alphabetically.

An essential companion to the film fan and film music enthusiast.

Reviewer

Ian Lace

Comment from the Editor

Thank you for your kind review of Halliwell's Who's Who in the Movies. One small point regarding page numbers. For some reason I've never understood, HarperCollins designers put Halliwell's page numbers on the inside of the page rather than the outside or centre. I'm sure that if you look carefully where you'd least expect to find them, you will discover that the pages have numbers!

John Walker Editor

---

Return to Part 1

A further set of September reviews here

COMPETITION WIN a CD of your Choice

---

Search the Crotchet database from here

Discs on these pages are offered for sale. There is also a page of search engines from a selection of on-line retailers here.
Please support this web-site by buying your discs here.
Disclaimer: Every effort is made to make sales links to the correct disc but, in the end, you must take responsibility for checking that what you are purchasing is what you want. Some of these discs were not actually available for sale at the time of posting but a link has been made in anticipation of their forthcoming availablility.

Return To Film Music on the Web