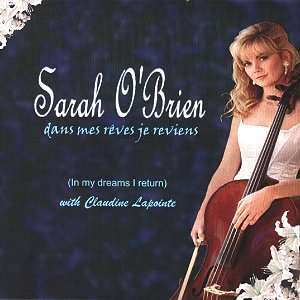 The delectable Miss O'Brien and her partner spin their charms over arrangements of well-known and not so well known works comprising a programme that will enchant, late on a cold winter's evening while gazing into a log fire. From nine selections, I would mention appealing renditions of Sondheim's 'Send in the Clowns' and the main theme from John Williams's Schindlers List score; both poignant and both admirably suited to the autumnal colours of the cello. Ms Lapointe's accompaniments are as delicate and imaginative as they are appealing.
Sarah was born and raised in England but moved to Los Angeles in 1993 where she now works as a studio player in addition to touring and varied live work. She can be contacted on: obriensl@ix.netcom.com and her web site is: http:www.sarah-obrien.com
I wish Sarah and Claudine well.
I must rule that this is the one and only time that Film Music on the Web can accept such material for review otherwise the flood gates would open and we would be inundated inhibiting our time to review film scores. So please, artists, do not approach us with similar CDs because I regret you will be disappointed.
Ian Lace