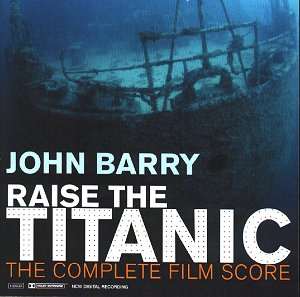 I am very grateful to the editor for letting me review this disc. The OST tapes have disappeared along with most of the performing materials. Silva and Nic Raine (who better) have previously reconstructed and recorded a suite from the music. Here, however, is the complete score in full sombre glory. This is music that breathes the sea air and Northern romance stalks the icy beauty of its pages.
I thought of many classical cross-references as I heard the disc (which by the way is stunningly recorded). There is the passion of the big tragic theme from Prokofiev's Romeo and Juliet (titles and tracks 12 and Titanic enters New York Harbor) alongside the dark sea wastes and 'murmuring miles' suggested by Gösta Nystroem's Sinfonia Del Mare (a work that should be sought out by all film music aficionados!). Did I also detect a hint of the wide-screen vista of Tara's Theme from Gone with the Wind?
Some light-heartedness (and not a little nostalgia) comes over in To Cornwall and Memories of the Titanic. The plangent drowned romance of some sunken ballroom (6) is also there. There are some deep bass songs in this score and the inky depths are memorably suggested page after page. Deep Quest Saved (coming after the spectacular grand theme complete with echoes not only of Prokofiev but also of Korngold and Herrmann) takes us back to romantic James Bond territory - already a domain well and truly John Barry's. It also is not far away in terms of excellence from Barry's love music from the King Kong remake.
The string tone of the Praguers is very acceptable and the brass are superbly caught. Shortish running time seems an irrelevance this time! This is one of my all-time favourite albums. It is enhanced by David Wishart's detailed notes (English only) in his usual fresh unhackeyed style.
Reviewer
Rob Barnett


Ian Lace has a rather different opinion -
Straightaway I have to confess to having a deaf spot for the music of John Barry. With few exceptions, like Somewhere in Time, and while I appreciate his melodic gift, Barry's work does not impress me. So, when a recording of his film music comes my way I usually pass the disc onto a more sympathetic reviewer. However, since I am writing this review during the summer vacation with scarce reviewer resources (although Rob kindly agreed to review the CD after I had written these words), I decided to make an exception in this case and cover this release resolving to be objective. I have to say, that as usual, I was disappointed. So readers will therefore pity me for not understanding or enjoying Barry's idiom, hate me or cheer me according to their inclinations.
I thought the main themes undistinguished and their development and orchestration limited. Scratch the surface of much of this lugubrious music and, with only slight modification, it has all been used before in the Bond films and other earlier Barry scores. Again, there are those high strings accompanied by plodding terribly earnest horns that stalk the score from one end to the other, an orchestration device that Barry flogs to death. Thankfully they sound increasingly elated as the Titanic surfaces and is escorted into New York harbour. Why is it I wonder that John Barry's music always sounds as if it was recorded in an echo chamber or an immense toilet? There is some relief in a brief shanty in 'To Cornwall', what is described as a chaste waltz variation, and a piano and saxophone led cue 'Memories of Titanic'
Come back James Horner and Titanic all is forgiven!

Reviewer

Ian Lace

composition performance

SILVA SCREEN responded to Ian Lace thus:-

While (obviously) applauding the 5-star review for RAISE THE TITANIC - although isn't "shortish running time" a bit harsh when we recorded every last note of the score and are still 20 minutes longer than most American score albums - I find it rather odd that a self-confessed non-Barry fan should also review the same album. I don't really think that this is being particularly objective as RAISE THE TITANIC is the quintessential Barry score, so the declared bias against his music is always bound to rise to surface. (dreadful pun intended) However not liking the music is one thing but surely the performance cannot be faulted? (mind you, I would say that being the Producer!) Maybe a duel rating should be introduced: one set of stars for the actual composition and one for performance/recording quality? This might also help when reviewing both modern and historical recordings?

Ian Lace's final word:-

Agreed it is unusual for a self-confesses non-Barry fan to speak out. I wrote in the spirit of devil's advocate expressing a purely personal point of view (How many critics will confess to personal dislikes or explain them ? How many editors bother to ensure their critics are not demonstrably antagonistic to the composer?). Regarding my view of this CD and Mr Barry's music in general I remain unrepentant but I will revert to my established practice and pass on all Barry music to my reviewers in future. I take Silva's point though about separating ratings for composition and performance. So, taking this Raise the Titanic album I award:
for Silva
for John Barry's composition .

I will now retire to reach for my shield as irate Barry fans prepare to launch missiles at me in our chat room or bulletin board.

Ian Lace