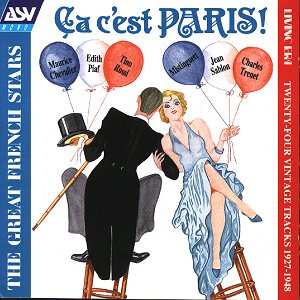 This collection sparkles and bubbles like vintage champagne. Here are 24 songs full of Joie de vivre and sometimes a little triste but all celebrating the City of Lights and Love. Many of the artists and many of the songs have appeared in films created in France and Hollywood. Heart-throb Tino Rossi, for instance, appeared in over 25 and, of course Maurice Chevalier was singing in those wonderful Paramount musicals of the late 1920s and early 1930s and right up until his appearance in Gigi (and beyond).
Chevalier had a long standing affair with Mistinguet, the star of the Folies-Bergère. It is her gravely voice that opens and sets the atmosphere for the programme with her ebullient rendering of the title song of this album. Period dance bands add nostalgic charm like the great accordéonist Maurice Alexander and his Orchestre Musette playing 'Sous Les Toits de Paris' and 'C'est Paris'. Chevalier sings 'Paris Stay the Same' from the film The Love Parade and 'Place Pigalle'. That other wonderful song 'Pigalle' is sung with lovely French emphases by Georges Ulmer and Marius Coste and his Orchestra. The incomparable Edith Piaf sings 'Les Amants de Paris'; Jean Sablon sings 'Paris, tu n'as pas change' and George Guetary, 'I dreamt I was back in Paris.'
Then there are songs praising 'Paree' by non-French artists including: Al Bowly, Rudy Vallée, Tony Martin and Noël Coward singing 'The Last Time I saw Paris.'
The title song of the Doris Day film April in Paris is also here but sung by Les Allen with Henry Hall and The BBC Dance Orchestra!
A wonderful bracing collection, ideal to cheer long car journeys.
Reviewer
Ian Lace