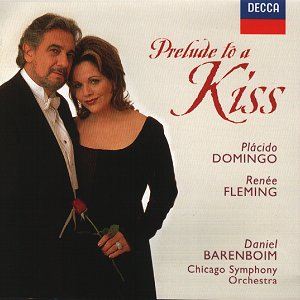 Programme comprises:
Leonard Bernstein: Prologue; 'Tonight'; Rumble; 'Somewhere' (West Side Story)
Gounod: Il se fait tard…Ô nuit d'amour! (Faust)
Gardel: El dia que me quieras
Moreno Torroba: Quisiera verte y no verte; Jota castellana;
Verdi: Già nella notte densa (Otello)
Duke Ellington: In a Sentimental Mood; Do Nuthin' till You Hear from Me; Prelude to a Kiss
Lehar: Dein ist mein ganzes Herz (Das Land des Lächelns); Lippen schweigen (Die lustige Witwe)
This compilation was recorded live during a concert at Orchestral Hall in Chicago on January 28th 1998. Renée Fleming's voice has a considerable range and her expressive powers are equally impressive. Comment on Domingo is superfluous.
The programme opens with a vibrant reading, full of disdain and rebellion, of the Prologue to West Side Story from the Chicago orchestra. When Kiri Te Kanawa and José Carreras recorded the complete production of West Side Story, under the direction of the composer, for DG in 1985, many of my colleagues, and myself, commented that they sounded too old for their parts as the teenage lovers. The same comment applies here. It all depends on your taste and attitude – whether you consider that West Side Story has aspirations towards the opera stage or whether it should be regarded as a sophisticated musical. I favour the latter appreciation. Fleming, especially, brings too much of the opera house to her Maria destroying her character's vulnerability and fresh spontaneity. Her singing here is too mannered for my taste.

The operatic excerpts are much more successful. Gounod's Faust duet is well nigh perfect. Fleming as Marguerite beautifully conveys both the elation and fright she feels at the ardent advances of Domingo's Faust. In the Otello duet, heard before the onset of Iago's corrosive influence, Domingo in the title role is virile as he boasts of his military exploits and full of ardour as he confirms his love for a compliant yet passionate Desdemona (Fleming).

Domingo enjoys the tangy Spanish rhythms and inflections of the three traditional songs accompanied by Barenboim at the piano. Carlos Gardel's El dia que me quieras ('On the Day that You Love Me') is gently ardent; the amusing Quisiera verte y no verte ('I do and I don't Want to See You') finds the singer in a quandary of whether to pursue and surrender to love (and probably enslavement) or whether to flee and preserve his liberty; and Jota castellana is a beguiling little song speaking of the lover's tenderness for his beloved.
Fleming has three songs with jazz-based music by Duke Ellington. They give her the opportunity to display her considerable technique. In a Sentimental Mood her voice goes soaring, arching, gliding and is held in its high registers while embracing the tones and inflections of a typical coloured blues singer. In Do Nothin' till You Hear from Me, the smoky lower reaches of her range are used with an engaging syncopation. The lines, "When we're apart, the words in my heart reveal how I feel about you..." give her the opportunity to display some engaging ambivalent coquettery while she shows how good a jazz singer she is in her improvisations during the closing moments of the song. The lovely Prelude to a Kiss allows her to develop this improvising still further.

Finally there are the two Franz Lehar numbers with Domingo singing Dien is mein ganzes Herz with the depth of feeling we used to associate with Richard Tauber. Domingo and Fleming team up for a glittering final duet, the Waltz song from The Merry Widow.

Except for the West Side Story numbers, recommended.

Reviewer

Ian Lace
Rob Barnett thinks:-
This is a very mixed anthology. Much that is here will give great pleasure. Quite a bit is compromised.

Fleming and Domingo fans can perhaps choose to ignore my reservations. I write however as neither. I am quite neutral towards both artists.

A celebrity album - it is given the full Decca treatment: De Luxe slipcase, ditto booklet, romantic portrait of Domingo and Fleming, full side-by-side translations from original language into (as appropriate) German, French and English. The West Side Story tracks do not have translations into French and German due to copyright factors.

The timing is a bit parsimonious but no doubt the big name factor cures all.

Although not declared or claimed my first thought and expectation from the packaging was that this would be a collection of duets featuring the two protagonists. Wrong! Four of the fourteen tracks are duets. Two are purely orchestral. Four each for Domingo alone (including three Spanish songs) and Fleming alone (including three Ellington tracks).

The singing is operatic and rather adipose. This maturity of voice can be particularly worrying in the Bernstein duet: Tonight. Here is music of dangerous love. The music should have a tetchy voltaic charge. Heck this is about a teenage Romeo and Juliet situation! Here it often succumbs to middle-age spread and I refer also to the orchestral contribution. The prelude is rather slack but the orchestra brightens for the Rumble. In fairness Tonight is often sheerly beautiful and Fleming is simply breath-taking in modulation and finessing of dynamics on the words "We'll find a new way of living" in Somewhere.

Gounod's Faust: Il se fait tard and O nuit d'amour: Domingo's French pronunciation of 'laisse' and 'caresse' as 'laissez' and 'caressez' struck me as odd although this may represent operatic tradition. In any event his duet with Fleming is warmly done.

The orchestra then drops out of the picture and Barenboim returns to his first love, the piano, and accompanies Domingo most sensitively. Domingo knows this repertoire very well and seems completely at ease with two lovely songs by Moreno Torroba (Quisiera verte and Jota Castellana - the latter a gem of a discovery for me) and one by Gardel (El día que ma quieras). In the Gardel track Domingo's voice drifts queasily between the speakers at 1.24.

Three Ellington songs are as arranged (in Ravelian impressionist style) by Larry Ham. Fleming is here in major cross-over territory (as both were in the Bernstein tracks). Is she suited to the repertoire? I am not completely convinced but the jury is still out on the point. Her singing often seems effortful (especially in In A Sentimental Mood. On the other hand she often produces the most magical effects: listen to her bluesy melismatic ululation between 3.00 and 3.20 in track 10. Do nothin' till you hear from me is gutsily defiant. In Prelude to a Kiss (the album name-track) her 'big girl' voice represents a stylistic collision with the music. Still her quasi-sprechgesang and the warm meander of her voice across the bars will cheer the chilliest heart.

The final two tracks are Lehár's Dein ist mein ganzes Herz and Lippen Schweigen. The former left me feeling that a rather queasy hand was at the orchestral tiller and Domingo, though perennially warm of voice, suffers from a slight wobble which I find distracting. The final Lippen Schweigen is charmingly done by the two stars.

Difficult to mark this one. It is such a strange mix of genres and achievement. I have catalogued my reactions as they came to me: both pleasures and disappointments. Track by track marking might have produced a very wide spread from two stars to four and a half. The overall mark is really an average impression.

Reviewer

Rob Barnett