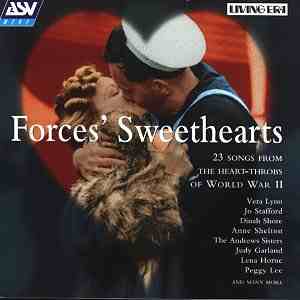 Collection: Forces' Sweethearts - 23 Songs from the Heart-Throbs of World War II
Vocalists: Judy Garland – Vera Lynn – Martha Raye – Connee Boswell – Peggy Lee - The Andrews Sisters – Ella Fitzgerald – Elsie Carlisle – Helen Forrest – Lena Horne - Maxine Sullivan – Dinah Shore – Frances Langford – Deanna Durbin – Anne Shelton - Jo Stafford – Doris Day – Mary Martin
These singers comforted and reminded the men who fought bravely in the far-flung theatres of war of their wives, sweethearts and families back home by the popular female vocalists of the day. For the British it was undoubtedly Vera Lynn who dominated. She is represented in this collection by two unforgettable songs: 'The White Cliffs of Dover' and 'We'll Meet Again' The American troops were entertained by such great stars as The Andrews Sisters who brought a very upbeat and often witty style to their singing of such favourites as ' Boogie Woogie Bugle Boy' and 'I'll be with you in Apple-Blossom time'; plus Frances Langford who sings 'Serenade in Blue' here and Dinah Shore, 'Skylark' and 'I'll walk alone.'
I will admit to being of an age (just) when the songs on this album were heard regularly on the radio. I recalled, with affection, Lena Horne singing 'Stormy Weather'; Peggy Lee's 'The way you look tonight'; Deanna Durbin with 'Say a prayer for the boys over there'; Anne Shelton singing 'Lili Marlene' and 'I'll be seeing you'; and Elsie Carlisle and 'A nightingale sang in Berkeley Square.'
A wonderful nostalgic trip

Reviewer

Ian Lace