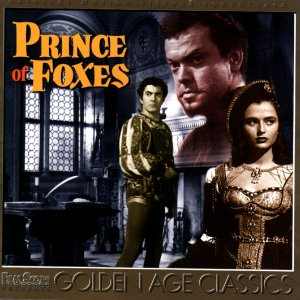 Another dark subject but a wonderful score, one that should have been committed to disc long before now and so Film Score Monthly must be congratulated on this coup. Prince of Foxes is set in the Italy of the Borgias. It concerns the dark machinations of the power hungry Cesare Borgia (Orson Welles) who despatches one of his officers (Tyrone Power) to assassinate a rival lord; but the officer succumbs to the charms of a pretty royal, (the ineffectual Wanda Hendrix), and to love and honour. The film was a box office failure due mainly to the Zanuck's insistence on the film being shot in black and white when the glorious Italian locales cried out for colour. Zanuck was surely wrong for creative colour photography could have maintained, even enhanced, his desired atmosphere of brooding evil and malice?
For Prince of Foxes, Newman created one of his most trenchant scores. [However, I would argue with the author of the rather over-deferential booklet notes that this score is probably Newman's masterpiece. I would agree with Charles Gerhardt's obvious choice of Captain from Castile (the title of Gerhardt's Alfred Newman album in the celebrated RCA Classic Film Scores series - GD80184).]
First, I should point out that the sound on this disc is excellent. For a film made in 1948, one would expect just mono sound. Newman, however, routinely recorded major pre-1953 scores with two microphones - one a 'close-up' mike, placed close to the conductor to capture the full onslaught of the orchestra and the second 'long-shot' mike behind the ensemble to secure another perspective. Each microphone led to a separate optical track so that when one was later laid atop of the other, the result was what came to be named 'fat mono.' This gives a certain depth and body to the soundtrack which listeners can enjoy on this album.
The Prelude is a rousing creation; a stirring march proclaiming the pride of the Borgias but it also hints darkly at their greed and despotism. This cruelty is pointed up throughout the score culminating in the pervasive evil inherent in such tracks as 'Attempted Assassination' one of the best cues on the disc which counterpoints a noble theme with undermining savage, swirling, malignant figures. Romance, warmth and compassion is signalled by one of Newman's appealing romantic themes with, on its first appearance, oboe and flute singing the melody supported by Newman's typical saccharine-sweet high strings. This theme is heard as a tenor's love song sung to the accompaniment of a mandolin in 'Song of Venice.' Courtly dances are heard in 'Royal Court' these have great vitality and move along at a very hectic pace. Slower courtly material is heard in 'The Banquet' which develops in a North-African sounding exotic dance. 'Festival of Spring' is an attractive joyful celebration.
Another impressive cue is 'The Duke's Entrance' which is a very grand and imposing jubilant procession at cantering pace and sounds very authentically Italian. But it is the battle between noble sentiments and the pervasive evil of Borgia treachery that preoccupies Newman and which stalks the score.
Excellent and an album that should be in every serious film music enthusiast's collection
Reviewer
Ian Lace

Visit Film Score Monthly on: - www.filmscoremonthly.com. Fax: USA 323-937-9277