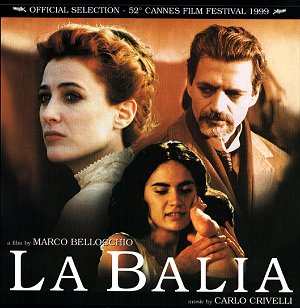 Clearly Carlo Crivelli is a firm admirer of Bernard Herrmann for he quotes the swirling figures from Vertigo in both these scores and the Scene d'Amour obliquely in Del Perduto Amore.
It has to be said these are dark scores - many would say black - and they do not make easy or comfortable listening. La Balia opens menacingly with swirling, surging material; agitated string figures rush across the sound stage. This is darkly dramatic stuff , very operatic and, indeed in parts reminiscent of Verdi. For 'Annetta' Crivelli thins his texture so that it becomes almost a chamber ensemble with clarinet and cello prominent. This smaller ensemble continues through 'Le pazze' another highly disturbing cue remote, cold, intense with the music staccato and spaced with many short pauses. This music screeches, it is disconnected and dissonant. 'Il dolore inespresso' continues the mood and conveys at first inexpressive grief before harp figures gradually warm the temperature in preparation for 'Tema di Valeria' which is warmer and more lyrical but still tinged with melancholy.
The music for Del Perduto Amore is slightly warmer and more optimistic but not much. The opening title cue is romantic and sentimental with a harder dissonant middle section. Crivelli obviously favours harsh dissonant music to underscore menace this time from the Fascists, these manifest themselves as crude brass glissandos and other 'sour' figures and are met with proud defiance in such cues as 'La bellissima maestrina.' 'Il prete e il fascista' contrasts an elegant Mozart-like gentility with growly, gruff low woodwind figures. The swirling Herrmann quotations figure prominently in 'Distruzione della scuola' and in the nine-minute suite from the film which also includes music of passion that alludes to Herrmann's Scene d'Amour.
Strong stuff indeed, you'll need something much lighter as an antidote immediately after listening to this disc.
Reviewer
Ian Lace

And Didier C. Deutsch says:-
It would have helped enormously had the label, Pacific Time, provided some information about these films or, for that matter, composer Carlo Crivelli. But the scant text included with this CD, track listing over color photo (from what film?), doesn't reveal anything significant. Only a banner at the top of the booklet cover indicates that La Balia was an official selection at the 52nd Cannes Film Festival in 1999.
Directed by Marco Bellocchio, La Balia (The Nanny), a period drama, apparently made an impressive debut at the Festival, for its powerful austerity and solid technical assets. Based on a novel by Luigi Pirandello, this psychological costume drama set in the early 1900s, mingles profound topics such as mental disabilities, motherhood and marital instability, against the broader framework of social unrest and police repression. Typical of the director's usual approach, the film is a clinical look at these conflicting aspects, made even more oppressive as a result of Bellocchio's fondness for psychoanalytical comments that frequently interfere with the deliberately slow action. The story of a respected neuropsychiatrist, married to a much younger woman whose mental stability begins to fray following the birth of their son, and the effect of the arrival of a comely young country girl (the nanny of the title) has on them when she comes to care for the baby, La Balia suggested to Crivelli a score that has unnerving accents, probably as a reflection of the claustrophobic drama.
With frequent calls on the low strings, and only an occasional sprinkling of a flute to relieve the tedium, the cues sound ominous and profoundly disturbing. No doubt that, behind the action, they served their purpose and enhance the moods, but as an audio experience the sparse instrumentation and relative lack of melodic material do not provide much fodder for listening enjoyment.
The instrumentation is much more florid, and the themes much more attractive (probably to reflect the romantic aspects of the story itself) in Del Perduto Amore, a film directed by Michele Placido. But since there is no way to tell how the music parallels or informs the action, the listener's only frame of reference becomes the melodic aspects of the score, quite compelling. Generally speaking, the moods expressed here are also somber and deliberately slow, but the themes are attractively laid out, in a way that at times evokes Bernard Herrmann ("Distruzione della scuola," with its five-note motif that recalls the opening cue of Vertigo). Three long selections (including a 9:12 suite), give Crivelli (only known to this day for two minor scores, La condana and Il principe di Humburg) a better opportunity to show his mettle, and make a profound impression as a romanticist.
Of the two scores combined on this CD, this is probably the one that will involve the listener most, causing him/her to return more frequently to this set of cues. Too bad there is no way to determine how the music blends in with the action, and what role it plays in it.
Reviewer
Didier C. Deutsch


Reviewer
Ian Lace
Didier C. Deutsch