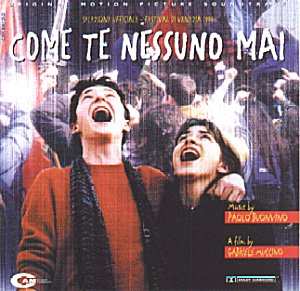 I had the mild pleasure of reviewing the "Ecco fatto" soundtrack earlier this year, and from the makers of that film now arrives another coming-of-age comedy from Italy, "Come te nessuno mai." Buonvino again uses light pop and ethnic music aspects in his orchestrations, but he accomplishes more than he has previously when it comes to juxtaposing the styles to form a score teeming with personality.
The presence of obvious pop ambient factors, likely used to lay stress on the contemporary setting as seen through the eyes of the film's teenage cast, cheapens the musical flow on a few bothersome occasions, but usually serves as support for the dramatic, orchestral current. Danny Elfman, David Shire, Jerry Goldsmith, Stanley Myers, and Hans Zimmer wrote hybrid film scores of their own, and Paolo Buonvino sounds quite skillful at it... The instrument run-down seems to be a 37-piece string orchestra, a 5-piece wind section, 2 French horns, a drum kit, a piano, a synthesizer, a lyre, and an accordion. If one accepts the idea that any musical instrument, used well (a rare event, that is true), can function beautifully and creatively as an addition to 'serious' composition, then this score is a minor miracle. Some may view the sour moments not as flaws, but as euphonious quirks.
Admittedly, the highest point of interest remains the diverse themes. A noteworthy peak of the score is a warmhearted waltz, titled 'Dylan,' that does not set new standards, but is superbly entertaining and, rather tellingly, caused me to punch the 'repeat' button on my stereo. The main theme, the 'Occupazione' theme, is quick, sly, and diligent, mixing together several forms under one roof. A secondary melody, the 'Achivio' theme, is more traditional, but orchestrated in manners that make me think it is fairly reminiscent of J.A.C. Redford's "The Astronomers," or a budget version of Jerry Goldsmith's "Congo!" The composer first introduces 'Empty' as an easy listening instrumental for accordion, finally as a vocal work performed by Francesca Belloni.
While this is one instance where the creative blend is frightfully uneven, it does work (if I may be so bold as to confess it) as easy listening.
Buonvino's approach is fascinating. Certainly it is not to everybody's taste, but one can become pleasantly surprised. This music is an excellent subject to explore.
Reviewer
Jeffrey Wheeler.


Reviewer
Jeffrey Wheeler.