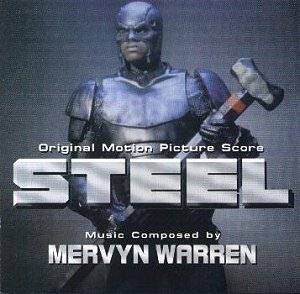 For all the feel-good intentions of this superhero hybrid project (Robocop / Iron Man etc.), it fared poorly. Something that unfairly makes this disc available only as a promo. Something with as much energy and good humour as this deserves to have greater exposure.
The gist of the format is that a metallurgist's experimental device is perverted by higher powers for criminal use. So to clean the streets of LA, John Irons becomes Steel - a metal-clad warrior for good. Got that ? Since Irons is black actor Shaquille O'Neal, director Kenneth Johnson went to Quincy Jones for recommendations to put urban street rhythms into the do-gooder's strides. Linked with Warren, the result is something like Superman meets Shaft. "Main Title" has a vaguely cheesy hero theme backed by both contemporary and seemingly seventies rhythms and licks. A bass guitar slides on through many of the cues but a sensible balance is kept between the brassy machismo and street-wise beats. "Gang Fight / Magnetic Personality" is a terrific showcase for the theme and dramatic action writing.
The only thing that lets the disc down is the gospel influenced "Stand Up (Steel Yourself)" song it ends with. It's entirely at odds with everything that's gone before.
Reviewer
Paul Tonks

Note: a track numbering error credits 23 when there are 24.
We were recently sent a number of PROMOTIONAL soundtrack music CDs to review:-
Promotional Albums offer lesser celebrated film composers the opportunity to bring their work (often of good quality but unsung [if you will forgive the pun]) to the attention of prospective producers who might be interested in contracting them for film scoring assignments. Another market opportunity is for short films, trailers, commercials, and other theatre and TV projects where producers with limited budgets might be interested in buying material "off the shelf." Lastly, film music buffs who have admired the scores but hitherto have never had an opportunity of acquiring the music now have an opportunity of buying scores they have admired. For instance anybody who liked Hummie Mann's music for Mel Brook's farce, Dracula, Dead and Loving It (with Leslie Nielsen) can now buy it from specialist sellers such as
SCREEN ARCHIVES ENTERTAINMENT
P.O. Box 500
Linden, VA 22642-0500
PH: (540) 635-2575
FAX: (540) 635-8554
SEND EMAIL TO:
craig@screenarchives.com
or
charles@screenarchives.com
website: www.screenarchives.com
Specializes in soundtracks, and carries some of those scores you just won't find anywhere else.
Or
SUPER COLLECTOR
12072 Brookhurst Street
Fountain Valley, CA 92840-2815
Voice: (714) 636-8700
Toll free: (800) 997-2434
Fax: (714) 636-8585
E-Mail: supercollector@supercollector.com
website: www.supercollector.com

Reviewer
Paul Tonks

---
---
Reviews carry sales links
but you can also purchase
from: