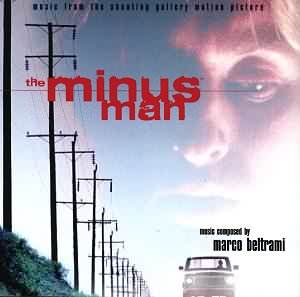 Marco Beltrami studied music with Luigi Nono in Venice then at the Yale School of Music. Now resident in Los Angeles, Beltrami studied the art of film scoring with Jerry Goldsmith. 1999 is certainly the year of the Italians and Italian-born and educated film composers. Here is another innovative score inhabiting a sound world that is as far off the beaten track of the usual film score as one could imagine.
Programme out the rather crass Pop elements performed by Bryony Atkinson and Inara George and you are left with some14 innovative and often riveting tracks. Main Title, begins with that sort of sound you hear when you course a damp finger round the rim of a glass. This arresting sound is followed by tubular bells, solo soprano, brushed cymbals and what might be a didgeridos, steel cans and an implement that suggests horses hooves plus piano and violin all combining to sing a melancholy romantic song that forms the main theme. The steel cans and hooves are appropriate to the next cue entitled 'that truck is a horse of death' in which the same instrumental quirkiness takes over, but this time there is a palpable sense of menace with a surprising tango-rhythm inflecting the closing bars. .'The mechanics of vann' has the same basic instrumentation but sounds like typical hillbilly music; a style that is even more pronounced in the aptly-named postal shuffle. 'At home' is a tender statement of the main theme. 'Ranchos Bolero' is a moody tango with tambourines, drums and solo violin playing gypsy-style before the whole slides into a grotesque howling.
'Scatback's dream is an eerie 'heavenly' almost childish vision until a droning bass crushes its serenity and all turns ugly black. 'The funeral' predominates the gloom under weirdly 'dripping' bells. 'Hunt for gene' is a quieter more introspective cue with the emphasis on violin and piano nostalgic melancholy with the quirky instrumentation held at bay but 'Christmas' sees the return of that odd glass-rim effect that introduced the main title as it sings a rather plaintive carol-like version of the main theme.
An extraordinary, fascinating album
Reviewer
Ian Lace


Reviewer
Ian Lace

---
---
Reviews carry sales links
but you can also purchase
from: