**************************************************************

EDITOR'S CHOICE – November 1999

**************************************************************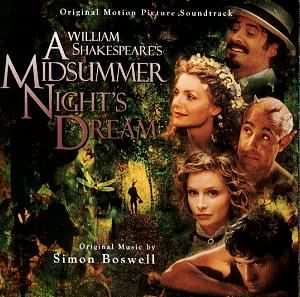 Source Music:-

Mendelssohn: A Midsummer Night's Dream - Overture and Wedding March
Verdi: La traviata – Brindisi (Renée Fleming and Marcello Giordani)
Puccini: La Bohème - Che gelida manina (Luciano Pavarotti)
Bellini: Norma – Casta diva (Renée Fleming)
Mascagni: Cavalleria rusticana - Intermezzo
Donizetti: L'elisir d'amore – Una furtiva lagrima (Roberto Alagna)
Rossini: La Cenerentola – Non più mesta (Cecilia Bartoli)
This is a truly entrancing album. Hoffman's film version of Shakespeare's immortal comedy of errors might not have greatly impressed the critics, but Simon's Boswell's score, and the choice of source music is inspired. It comprises excerpts from Mendelssohn's original music for the Shakespeare play (conducted by Ashkenazy) together with popular arias from Italian opera, sung by Decca's opera super stars.
Boswell's score commences with 'The course of true love' a sentimental, romantic piece for strings with isolated woodwind colourings. This is salon music of the turn-of-the-century and suggests not only Elgar but also French and Italian music of that genre too. An exquisite little creation.
The booklet notes tell us that Boswell was influenced by a wide spectrum of music in writing this score, from ancient music to diverse popular traditions (Indian, Bulgarian, Syrian, Egyptian, Caribbean, African to name but a few) plus Mozart, Stravinsky and Ravel etc. His talent blends all these diverse influences into a remarkably evocative score. Not since Jerry Goldsmith's Legend score, have I heard music that so successfully portrays the land of the fairies. 'Between the cold moon and the earth', is magically beautiful; full of fairy-light tinklings, shimmerings, ripplings and flutterings to and fro across the sound stage. 'Hot ice' is buffoonery with pipes and tambour – a merry and satirical dance, wickedly witty. 'The forgeries of jealousy' is altogether darker and disturbing as befits the green-eyed monster, sensual hot-house music laced with menace. 'I know a place where the wild thyme grows…' is pastoral and gently romantic with soft zephyr breezes playing and fairy dust scattering over lovers' bowers. (A narration of Shakespeare's well-loved verse might have been an attractive bonus here)
'What fools those mortals be' is another busy little number in the Italian style with delightful languid, romantic moments. 'Strange snow' is a strange rustic dance which reminds one more of the bazaars of North Africa but its incorporation of some unusual instrumentation like Caribbean steel drums and its infectious rhythms makes it irresistible. 'Fair lovers you are fortunately met' is an arrangement, by music editor Robert Randles, of the beguiling horn melody and imposing brass fanfares from Mendelssohn's A Midsummer Night's Dream. Finally Boswell arranges Mascagni's Cav. music for 'A most rare vision' and reintroduces some of the salon-type material with which the score opened.
Just a word about the source music – these marvellous arias are worth the price of the CD alone. Pavorotti's Puccini aria comes from the prized Karajan recording with Miella Freni as Mimi. Renée Fleming's 'Casta diva' is one to die for, Cecilia Bartoli shows off her coloratura prowess in her Rossini aria and Roberto Alagna is magnificently ardent in the Donizetti.
This album will figure highly in my list of best scores of 1999. Don't hesitate; rush out and buy this one.
Reviewer
Ian Lace