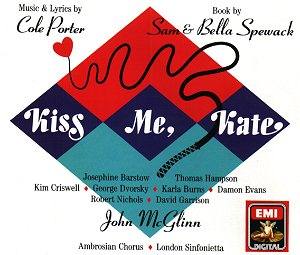 Note: this recording was released in 1990.
Kiss Me Kate gave Cole Porter the opportunity to add his brand of magic to Shakespeare's The Taming of the Shrew. Kiss Me Kate was, of course, filmed brilliantly by M-G-M in 1953 with the great Howard Keel and Kathryn Grayson leading a cast that included Ann Miller, Tommy Rall, Bobby Van, Bob Fosse, and Kurt Kasznar with Keenan Wynn, and James Whitmore as the two gangsters. The soundtrack recording from that film is still available, to the best of my knowledge.
But I have chosen to review this 1990 recording because: (a) it is in digital stereo sound, (b) it contains all the songs and dances plus material that was dropped before or during rehearsals, (c) in Thomas Hampson, we have a top baritone who can rival Keel; and (d) the booklet notes include all the lyrics so that one can fully savor all the clever Porter wit; the booklet also includes full details about the original stage production. The booklet also includes an interview with Patricia Morison who was Kate in the original Broadway Production which commenced on December 2nd 1948 and ran for 1,077 performances (followed by 400 performances in London).
Kiss Me Kate is a sophisticated and literate, but above all a very funny fable of an egocentric, fabulously flamboyant ex-married couple, Fred and Lilli Vanessi, who have been reunited to co-star in a production of The Taming of the Shrew. The shaky course of their reunion off-stage, is paralleled by the stormy plot of the Shakespeare comedy on-stage.
Porter's career had been in the doldrums in the 1940s the era of swing – a musical style totally out of joint with his style but with Kiss Me Kate he returned to top form with a score that absolutely brims with good tunes. It ranges in mood from the beautiful love ballads, 'So in Love' and 'Were thine that Special Face' to the lovely spoof of the Viennese operetta songs, 'Wunderbar' (which is so attractive in its own right that people, quite rightly, take it seriously), to the witty patters songs.
The patter songs are probably best remembered. Josephine Barstow as the virago Kate/Lilli sings 'I Hate Men' and spitefully spits out such lines as:-
"I hate most the athlete with his manner bold and brassy
He may have hair upon his chest but sisters, so has Lassie!"

and –

"…From China he will bring you jade and perfume from Araby,
But don't forget 'tis he who'll have the fun and thee the baby,
Oh I hate men,
If thou shouldst wed a businessman, be wary, oh, be wary
He'll tell you he's detained in town on business necessary,
His business is the business which he gives his secretary…"
Then in Act II as Petruccio/Fred begins to tire of his uphill task in subduing his headstrong wife, he begins to rue his married state and in his song 'Where is the Life that Late I Led' he remembers all the girls he'd loved including:-
"where is Rebecca, my Becki-weckio,
could she still be cruising that amusing Ponte Vechio,
Where is Fedora, the wild virago?
It's lucky I missed her gangster sister form Chicago.
Where is Venetia, who loved to chat so,
could she still be drinkin' in her stinkin' pink palazzo?
And lovely Lisa, where are you Lisa?
You gave a new meaning to the leaning tower of Pisa…"
Another show-stopper was the gangster's patter song, 'Brush up your Shakespeare.' In which they advise the fellas to:-
"Brush up your Shakespeare,
Start quoting him now,
Brush up your Shakespeare
And the women you will wow
…Just declaim a few lines from "Othella"
and they'll think you're a helluva fella
If your blonde won't respond when you flatter 'er
Tell her what Tony told Cleopaterer.."
The bonus items are impressive and would have found respectable places in other musicals. A box set to be treasured alongside the original soundtrack recording.
Reviewer
Ian Lace


Reviewer
Ian Lace

---
---
Reviews carry sales links
but you can also purchase
from: