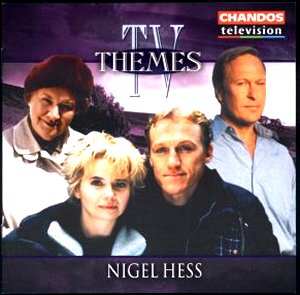 This most generous anthology pushes CD right to the limits of the format's running time, offering at over 79 minutes, more music than many a double LP. There are 26 TV themes, with the 27th track graduating to the silver screen with the theme from a new version of An Ideal Husband. Unfortunately, not the acclaimed Oliver Parker production staring Rupert Everett and Julianne Moore and Jeremy Northam, with music by Charlie Mole, but a rival 1998 production led by James Wilby, Sadie Frost and Jonathan Firth, which after receiving some poor advance press, appears to have been shelved. The theme is attractive, but not especially distinctive.
The booklet features some amusing notes by Nigel Hess, sending-up a typical party conversation in which he fails to explain to a disbelieving guest that he really does write music for television: "Dramas on TV don't have any music, except maybe those short catchy tunes at the beginning and end - and nobody actually writes those… they get them off records." A situation I'm sure will be familiar to anyone reading this who has ever tried to explain their musical tastes to a stranger. Then, before detailing each track, the booklet explains how the music here - not the originals, but expanded new versions recorded by pick-up London Film Orchestra and the vocal group Chameleon, with which Hess has a long standing involvement - is culled from 15 years of work for television. We also learn that Nigel Hess has composed 20 scores for the Royal Shakespeare Company, won awards for music on Broadway, and had his work "The Way of Light" performed with actors, choir and orchestra in St. Paul's Cathedral in the presence of Her Majesty the Queen and HRH the Prince of Wales. So why, I was wondering, apart from having failed to see all but one of the 26 programmes, had I not heard of Nigel Hess? The answer is I am afraid, that on the evidence here at least, that his music has little appeal to film music fans.
Now inevitably, the music from 27 different productions, from comedies, to period dramas, detective shows and documentaries is going to vary considerably in style, containing everything from atmospheric pieces - Every Woman Knows a Secret, with beautiful wordless vocals by Mary Carewe - to pastiche 1920's dance music for Just William - but if there is a unifying element it is a rather MOR sensibility. Further, placing so many deliberately and instantly catchy themes all together can make for somewhat wearying listening - longer suites from a lesser number of programmes might have made for a more cohesive, but doubtless less commercial release. Nevertheless, I think this album will find its real home with enthusiasts for British Light Music, with which Chandos, (and other labels such as Marco Polo) have done so much in recent years. That is, if they can stomach tracks like Summer Lease, which is the sort of embarrassing bombast that results when progressive rock musicians from the 70's are allowed access to choir and orchestra. Indeed, an air of sentimental bombast is unfortunately rarely more than the next track away, with cliched up-lifting drums all to often employed to underpin the next anthemic tune, and to which the lyrical song from Chimera, sung by Olive Simpson offers too rare compensation.
Perhaps delicacy and subtlety are not the order of the day with TV themes, but too much here is cloying and overly sweet, possibly explaining why, despite Nigel Hess' undoubted talent and numerous awards he remains working in television (apart from the one, reputedly poor, film) rather than crossing over to join Patrick Doyle, Rachel Portman and Debbie Wiseman at the movies.
For the record, the complete track list is: Hetty Wainthropp Investigates, Badger, The One Game, Wycliffe, A Woman of Substance, Summer's Lease, Dangerfield, Just William, Every Woman Knows A Secret, Perfect Scoundrels, Anna of the Five Towns, Campion, Maigret, Vidal in Venice, Classic Adventure, All Passion Spent, Chimera, Testament, Vanity Fair, An Affair in Mind, The London Embassy, Atlantis, A Hundred Acres, Growing Pains, Us Girls, Titmuss Regained, An Ideal Husband.
Reviewer
Gary S. Dalkin


Reviewer
Gary S. Dalkin

---
---
Reviews carry sales links
but you can also purchase
from: