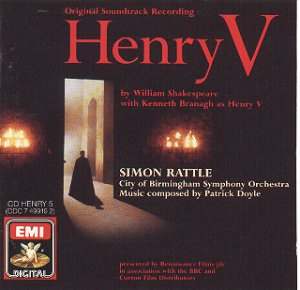 Few film music debuts are as accomplished and nigh astronomical as Patrick Doyle's. A composer formally stuck writing synthesized scores for stage and radio productions made a truthfully invigorating appearance with a full orchestral score that is powerful, assured, sophisticated... a treasure!
This album ought to lead to a concise review, for two reasons:
1) I have nothing but good things to say about it,
2) those who do not have it should not be reading a review, but should be rushing to buy the disc. That may appear somewhat trite, but is probably true nonetheless.
Here is a soundtrack that towers above a middling crowd as a score that every lover of great music should hear. The choral 'Non Nobis, Domine' is already a quickly recognizable piece among classical and filmusic buffs alike, whilst Doyle's minstrel strumming of the 'Opening Title,' the theatrical provenience of the 'Henry V Theme,' the resplendent melody for King Henry's compassion in 'The Death of Falstaff,' the tremendous action of 'Once More Unto the Breach,' the saddening, treasonous darkness present in 'The Death of Bardolph,' the unparalleled centerpiece of the score that is 'St. Crispin's Day & The Battle of Agincourt,' the tender love theme from 'The Wooing of Katherine'... all are no less amazing. Doyle uses the 'End Title,' a recording of 'Non Nobis, Domine' minus the symphonic interlude, to crown this off with a feeling of grand finality. One could write entire essays concerning these cues, and could still go on to write paragraphs on the remainders. (I think some actually have.) The score is indiffident, in the finest, non-pejorative sense; a masterpiece in form and function in the most absolute sense.
The music blossoms in the air thanks to a charismatic reading by Simon Rattle and the City of Birmingham Symphony Orchestra. Everything comes together to create an underscore of glorious magnitude. With all of its might and epic splendor, it sounds nearly as timeless as Shakespeare's text.
Reviewer
Jeffrey Wheeler


Reviewer
Jeffrey Wheeler

---
---
Reviews carry sales links
but you can also purchase
from: