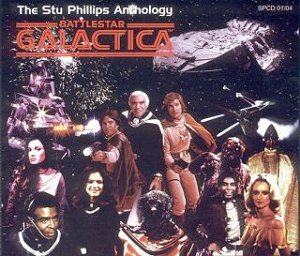 Last month for Film Music on the Web I reviewed a new recording of the pilot movie score for Battlestar Galactica, with the composer himself, Stu Phillips conducting the Royal Scottish National Orchestra and released on Varese Sarabande. Now here is a beautifully presented 4 CD anthology offering well over 4 hours of music from the soundtrack recordings of the pilot, the series which followed and the sequel series, Galactica 1980. It is a promotional set, the first release on composer Stu Phillips own label, and given that Battlestar Galactica was originally produced to capitalise on the success of Star Wars, this release appears post The Phantom Menace as part of a wave of renewed interest in the Galactica saga. Indeed, star Richard Hatch has long been an advocate of a revival of the series, and contributes a note promoting the possibilities of further adventures of Battlestar Galactica.
Frankly, this release astonishes me, in so far as I find it very difficult to believe there are people who would want four CDs worth of music from a mediocre 20-year-old TV show. I would have thought that the new recording would be more than satisfactory, given the strong performances and spectacular sound of that disc. However, here we have more music from the pilot score. The new Varese Sarabande release is essentially a remake the original soundtrack album issued in the late 70's, and contains 17 tracks spread over 48:33 minutes. Here Disc One is entitled "Saga of a Star World" and features 60:09 minutes from the pilot, divided into 29 tracks. Given that over five minutes consists of two source cues of rather hamfisted 70's jazz rock, there is really only about another 6 minutes of score. Even so, given the rather restricted mono sound - surely the master-tapes would have been in stereo - and even some rather unpleasant distortion in places, it seems to go on forever. The new recording showcases this music at its best, but on the originals, with sound one might easily mistake as coming from the mid-50's, it becomes more a matter of imagining how it could be, while all to often simply playing spot the influence. One moment it is Bernard Herrmann and Jason and the Argonauts, the next Miklos Rozsa and Lust for Life. Elsewhere there are reminders of Jerry Goldsmith's abrasive 70's action writing and Leonard Rosenman's atmospherics. Reflective, bleak moments such as 'Adama's Theme' come off best, a brooding and stark tonal world with shadows of William Alwyn's concert works.
Disc Two contains 62:29 minutes of music, consisting of the 'Main' and 'End Titles' from the TV show proper, plus suites from the two part stories "War of the Gods" and "Gun on Ice Planet Zero". Essentially this is more of the same, but with extra tape hiss. There are some dramatically inventive moments, such as 'The Lightship Appears', and the choral glitter of 'The Light Beings', but too much is simply yet more polished action and suspense writing with little in the way of memorable themes to sustain interest. It is accomplished television music, but away from the screen holds little to command attention.
Disc Three offers 66:52 minutes from the spin-off series, Galactica 1980. We are given the Main Title, suites from the two-part stories "The Living Legend" and "Lost Planet of the Gods", plus some sound effects and source cues from "War of the Gods", and source cues from "The Magnificent Warriors". The sound is rather better than on the second disc, but the mixture is as before, sombre string passages, suspense, action and adventure, with further variations if not on a theme, then on a very distinct style. The source cues suffer the fate of all attempts to write futuristic music, which is to say they sound very dated and of their period. This is the future as envisioned with state-of-the-art electronics circa 1980. That said, 'Starbuck's Luck' is quite appealing, but is the only one of these cues which is.
Disc Four has 66:45 minutes, again from Galactica 1980. An 'Alternative Main Title/Prologue' is rather more crisp and punchy than previous takes on the theme, and leads to suites from "The Lost Warrior", "The Young Lords", "The Magnificent Warriors", "The Long Patrol" and "The Hand of God". An extraordinarily dark love theme for Apollo and Bella is a highlight of sorts, while 'The Good the Bad and the Cylon' contains an element of Morricone homage within the soundworld established for the series. From then on the disc very much follows the pattern of the first three, with yet more brooding suspense, percussive action and stark, melancholy strings.
Long before the end this 4CD set becomes extremely wearisome, such that getting through it once is something of an endurance test. With functional sound and essentially generic, functional music for well over 4 hours, this really can only be of interest to real die hard fans of Battlestar Galactica. It is very nicely packaged, but how many people love both TV music and the show enough to want to seek this set out is another question entirely. All but the most fanatical are advised to consider the Varese Sarabande album instead.


Complete listing: [Return to head of review]
Disc One: [60:09] "Saga of a Star World" Disc Two: [62:29] 'Main Title', Suites from Battlestar Galactica TV series stories "War of the Gods" and "Gun on Ice Planet Zero", 'End Title'. Disc Three: [66:52] 'Main Title', suites from Galactica 1980 TV series "The Living Legend" and "Lost Planet of the Gods" plus sound effects, source cues, 'End Title'. [66:45]. Disc Four: [66:45] "Alternate Main Title/Prologue" Suites from Galactica 1980 TV series episodes "The Lost Warrior", "The Young Lords", "The Magnificent Warriors", "The Long Patrol", "The Hand of God". Total Time: [256:15]
Reviewer
Gary S. Dalkin

We were recently sent a number of PROMOTIONAL soundtrack music CDs to review:-
Promotional Albums offer lesser celebrated film composers the opportunity to bring their work (often of good quality but unsung [if you will forgive the pun]) to the attention of prospective producers who might be interested in contracting them for film scoring assignments. Another market opportunity is for short films, trailers, commercials, and other theatre and TV projects where producers with limited budgets might be interested in buying material "off the shelf." Lastly, film music buffs who have admired the scores but hitherto have never had an opportunity of acquiring the music now have an opportunity of buying scores they have admired. For instance anybody who liked Hummie Mann's music for Mel Brook's farce, Dracula, Dead and Loving It (with Leslie Nielsen) can now buy it from specialist sellers such as
SCREEN ARCHIVES ENTERTAINMENT
P.O. Box 500
Linden, VA 22642-0500
PH: (540) 635-2575
FAX: (540) 635-8554
SEND EMAIL TO:
craig@screenarchives.com
or
charles@screenarchives.com
website: www.screenarchives.com
Specializes in soundtracks, and carries some of those scores you just won't find anywhere else.
Or
SUPER COLLECTOR
12072 Brookhurst Street
Fountain Valley, CA 92840-2815
Voice: (714) 636-8700
Toll free: (800) 997-2434
Fax: (714) 636-8585
E-Mail: supercollector@supercollector.com
website: www.supercollector.com

Reviewer
Gary S. Dalkin

---
---
Reviews carry sales links
but you can also purchase
from: