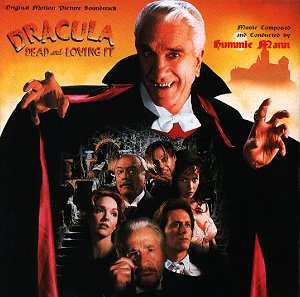 Hummie Mann has for many years been one of Hollywood's top orchestrators. His TV credits include Fame, The Simpsons, and Moonlighting and his films: The Addams Family; A Few Good Men, The Prince of Tides and City Slickers.
As a composer, he has scored: Year of the Comet, Benefit of the Doubt, Box Office Bunny (the first Bugs Bunny cartoon to be released to theatres in 26 years), and for the Rebel Highway and Picture Windows series. He also scored Mel Brooks' film, Robin Hood: Men in Tights.
It was natural therefore, that Mel Brooks should go to Mann for the score of Dracula, Dead and Loving It (1996). Wisely, Mann created a "serious" gothic score against the inanities of the satirical plot. He confessed that he saw many Dracula films and researched the musical approaches of other composers. "I listened to all the other Dracula scores: John Williams', the Hammer score, Wojciech Kilar's one for Coppola… I tried to come up with my own twist…" Mann's large gothic-sounding score is written for a substantial orchestra of 87 musicians and a choir of 16 singers, multi-tracked. "I played toward the power of Dracula, his ability to control people through hypnosis or move objects with a wave of his hand – to reinforce the idea that he was a force to be reckoned with."
His main theme is full of grandeur and is darkly sinister yet vaguely heroic. This theme has a little five-figure tailpiece that is at the same time not only slightly comic and satirical but also suggestive of fluttering bats. This is a neat and clever touch. Mann's music captures the sinister elements of the story but it also suggests the essential loneliness of Dracula and his yearning for love. The score is often very sensual and voluptuous. For the ball scene Mann creates comically manic arrangements of Villoldo's famous El Choclo tango and Liszt's Hungarian Rhapsody No. 5 and contributes a very convincing Bohemian-like folk dance of his own. Earlier the score had also included some Bohemian gypsy music for the villagers.
An entertaining score
Reviewer
Ian Lace

We were recently sent a number of PROMOTIONAL soundtrack music CDs to review:-
Promotional Albums offer lesser celebrated film composers the opportunity to bring their work (often of good quality but unsung [if you will forgive the pun]) to the attention of prospective producers who might be interested in contracting them for film scoring assignments. Another market opportunity is for short films, trailers, commercials, and other theatre and TV projects where producers with limited budgets might be interested in buying material "off the shelf." Lastly, film music buffs who have admired the scores but hitherto have never had an opportunity of acquiring the music now have an opportunity of buying scores they have admired. For instance anybody who liked Hummie Mann's music for Mel Brook's farce, Dracula, Dead and Loving It (with Leslie Nielsen) can now buy it from specialist sellers such as
SCREEN ARCHIVES ENTERTAINMENT
P.O. Box 500
Linden, VA 22642-0500
PH: (540) 635-2575
FAX: (540) 635-8554
SEND EMAIL TO:
craig@screenarchives.com
or
charles@screenarchives.com
website: www.screenarchives.com
Specializes in soundtracks, and carries some of those scores you just won't find anywhere else.
Or
SUPER COLLECTOR
12072 Brookhurst Street
Fountain Valley, CA 92840-2815
Voice: (714) 636-8700
Toll free: (800) 997-2434
Fax: (714) 636-8585
E-Mail: supercollector@supercollector.com
website: www.supercollector.com

Reviewer
Ian Lace

---
---
Reviews carry sales links
but you can also purchase
from: