Last month you might remember we reviewed new albums for Deep Blue Sea and The Iron Giant and I complained about the scant time given to the original music of Trevor Rabin and Michael Kamen. Well, just to confuse everybody, this month we have two more albums for Deep Blue Sea and The Iron Giant but this time comprising fuller scores from the two composers. Film Music on the Web deplores this trend which is becoming more and more prevalent. Similar CD booklet designs don't help either (particularly in the case of Deep Blue Sea). We wonder what the Trades Description people might make of it all?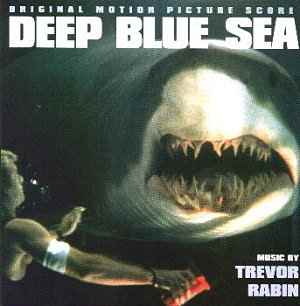 If you've only just seen the film, you need to retrieve your brain before listening to the music and reading any reviews. Alzheimer's saving intelligent mutant killer sharks on the loose ? How the Hell does a composer react to pitch like that ?
Rabin totally ignores any approaches previously taken for shark movies (there were a couple, right ?) and instead dives further into his orchestra 'n' electronics Armageddon style laced with trademark guitar. For all the gung-ho nonsense of the supposedly intelligent characters, this music works a treat. The finale cue ("Aftermath") is sequenced first, so that we get an heroic musical introduction to the score. It doesn't take very long for the cacophonic attacks to commence (halfway through "Journey"), and once they do you have the rest of disc pegged. "Anarchy" is the very best of these, with a frenetic pace sustained as the idiots get picked off one by one.
The score may not exactly break new ground, but it keeps its head above water with spots of innovation when many other action blockbusters don't even try.
Reviewer
Paul Tonks


Reviewer
Paul Tonks

---
---
Reviews carry sales links
but you can also purchase
from: