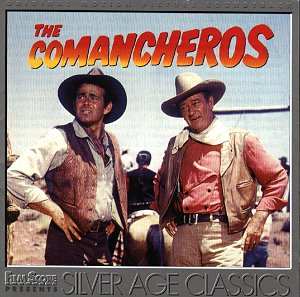 I have to confess that I have some sympathy with Nik Redman's rather gloomy view of current cinema as he sees it in his introductory notes to this smashing album. He deplores the position of today's filmgoing as "bottom-of-the-cultural-barrel." Looking through the new scores we have had to review on this site this year, and the standard of films coming into our theatres, I feel there is some justification for this viewpoint. Once again, it is the top few composers: John Williams, Jerry Goldsmith and Elmer Bernstein that impress with all the others generally lagging some way behind. (Yes, I know there have been a few exceptions like: Simon Boswell's A Midsummer Night's Dream, Hans Zimmer's Thin Red Line and Randy Newman's Pleasantville, but there were few others as worthy as these.)
The Comancheros, one of the last films to be directed by the legendary Michael Cutiz, was not a brilliant western but it was admirably crafted with good performances from a cast led by the Duke, John Wayne, brilliantly photographed by William H. Clothier and superbly scored by Elmer Bernstein.
The album comprises 20 selections from the original soundtrack gloriously restored in stunning sound, plus the usual absorbing bonus tracks that we have come to expect from the enterprising Film Score Monthly team. There is the unused title song "The Commancheros" sung by Claude King. It is a folksy ballad that commentates on the plot of the film and includes some politically incorrect "Indian" war calls. Then there is another ballad "You walked away" which was never released, but used for the lovelorn gambler Paul Regret (Stuart Whitman) as he pines for Pilar Graile, daughter of the renegade Comancheros leader. A final bonus is an absolutely riveting mono mix of the film's main title with Jake's theme thrillingly prominent.
It is this main theme for Wayne's character, Jake Cutter, which lingers in the memory. This is surely the most appealing western theme Bernstein ever penned, even more memorable, for my money, than that for The Magnificent Seven. This superb theme is typical of Bernstein's virile muscular score and it is developed and used throughout the film. There are many impressive cues. 'Riverboat Capture' is a complex cue weaving in character and narrative musical comment, with the odd touch of rye humour. A nice feature of this cue, that is also carried over into the next track, is the stealthy tambourine figures that might suggest jingling spurs. In 'The Wide Open' (and later in 'Nostalgia'), Bernstein introduces slower, string-based romantic material as Jake reminisces about his late wife and the ranch he once tended. 'Eulogy carries some impressive muted Indian music as the heroes sight a burnt-out ranch and its murdered occupants; and a tender section for solo strings over woodwinds underscore Jake's discovery of the body of an elderly woman and evidence of a murdered child. In 'McBain', Bernstein gives us a jaunty piece of Coplandesque Americana as Jake takes on McBain's identity (and his wagon of guns) to pursue the Comancheros. 'Attack' has strong pulsating rhythms for the Comanches attack. 'Commancheros', one of the strongest tracks on the album, reprises Jake's theme strongly, declaims the romantic theme passionately and stages realistically fierce Indian war figures. The "Indian" music is particularly imaginatively scored and orchestrated, avoiding the usual clichés. Finally, I would just mention the catchy Latin music for 'Campfire Dance.'
Maintaining Film Score's high standards, the booklet is excellent with plenty of stills from the film, Nik Redman's informed background notes about the production of the film, and informed, intelligent track-by-track analyses by Jeff Bond.
Another triumph for Film Score Monthly and enthusiastically recommended.
Reviewer
Ian Lace

"For further information visit Film Score Monthly - www.filmscoremonthly.com and see the magazine Film Score Monthly for exciting news on upcoming releases."
Reviewer
Ian Lace

---
---
Reviews carry sales links
but you can also purchase
from: