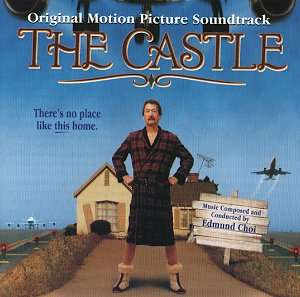 Following a strong debut like "Wide Awake," "The Castle" is a trifle disappointing. A comparison between very diversified scores is unfair, that is true, but the over-simplicity, the predictability, of Choi's first score remains with him regardless.
However, a more serious, additional problem emanates here that cheapens the album. Despite individual tracks being conventional, the score as a whole goes to the opposite. The use of pre-existing music as a guide is obvious. It suffers from filmmusical schizophrenia! The liner notes by Film Score Monthly scribe Mark Leneker state that Edmund Choi had to reinvent the spotting cues, and Choi confirms that he tried to make the music his own. Unluckily, only the last seven or so tracks (not counting the 'synthesizer demo' curiosities tacked onto the end) do a confident job demonstrating the skill behind the task. I had a troublesome time getting 'into' the soundtrack because of this.
Okay, it does have some phenomenal qualities. The track 'Losing,' with its earnest piano solo and thoughtful chords, is where the magic begins, where the album ventures above the typical program of cinema music. Another reward is the main theme -- beautiful, with what sounds to be Edmund Choi's trademark of a broad melody line (which receives several consummate variations). The composer also clearly enjoys composing for motion pictures, and that feeling is something one should always hear in a film score.
Reviewer
Jeffrey Wheeler

Ian Lace adds:-
This is another of those soundtracks that sounds as if it is a compilation of many others - there is a sameness here too much of a feeling of we have heard it all before. [Too many times this year have I been disappointed with new scores that seemed to have been 'written by numbers.'] To be fair to Mr Choi, The Castle score is nicely crafted and splendidly played. I would echo Jeffrey Wheeler's sentiments in his review of Wide Awake this month - Mr Choi shows definite promise and, if he will excuse my patronising tone, he is still young, still learning his craft; but when he finds his mature individual voice, we might hear some exceptional work.
In his notes, Mark Leneker suggests this score is reminiscent of Vaughan Williams's music. I have to confess I could hear no such similarity. I think Mr Leneker might have been thinking of the homely, cosy county-dance type music which opens the album but personally, I would associate this with the other side of the Atlantic. The score is quite eclectic and includes diverse Pop, rock and country styles as well as more weighty authoritarian material for 'High Court.' With its snare drummings it suggests scant justice! One of the highlights is 'Losing' and 'Packing Up.' Starting with attractive solo piano and guitar meanderings the textures thicken to include strings and the music broadens out into a nice romantic melody.
Lets hope that this and Wide Awake are stepping stones to bigger things
Reviewer
Ian Lace

We were recently sent a number of PROMOTIONAL soundtrack music CDs to review:-
Promotional Albums offer lesser celebrated film composers the opportunity to bring their work (often of good quality but unsung [if you will forgive the pun]) to the attention of prospective producers who might be interested in contracting them for film scoring assignments. Another market opportunity is for short films, trailers, commercials, and other theatre and TV projects where producers with limited budgets might be interested in buying material "off the shelf." Lastly, film music buffs who have admired the scores but hitherto have never had an opportunity of acquiring the music now have an opportunity of buying scores they have admired. For instance anybody who liked Hummie Mann's music for Mel Brook's farce, Dracula, Dead and Loving It (with Leslie Nielsen) can now buy it from specialist sellers such as
SCREEN ARCHIVES ENTERTAINMENT
P.O. Box 500
Linden, VA 22642-0500
PH: (540) 635-2575
FAX: (540) 635-8554
SEND EMAIL TO:
craig@screenarchives.com
or
charles@screenarchives.com
website: www.screenarchives.com
Specializes in soundtracks, and carries some of those scores you just won't find anywhere else.
Or
SUPER COLLECTOR
12072 Brookhurst Street
Fountain Valley, CA 92840-2815
Voice: (714) 636-8700
Toll free: (800) 997-2434
Fax: (714) 636-8585
E-Mail: supercollector@supercollector.com
website: www.supercollector.com

Reviewer
Jeffrey Wheeler

Ian Lace

---
---
Reviews carry sales links
but you can also purchase
from: