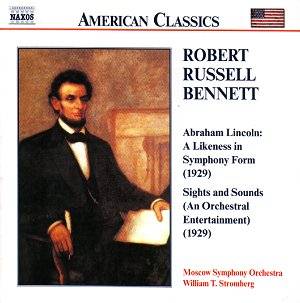 Bennett is best known as an orchestrator for shows and perhaps best of all for his Symphonic Portrait of Gershwin's Porgy and Bess. His success with shows secured his commercial future. However he was also busy in the field of 'serious' composition.
Lincoln inspired many American works. The most exposed remains Copland's Lincoln Portrait for orator ad chorus but the roster of Lincolniana is long and distinguished and the present symphony forms part of the orchestral list:-
A Lincoln Legend MORTON GOULD
Lincoln - Requiem Aeternam HERBERT ELWELL
Lincoln's Gettysburg Address works by JOHN BECKER and FERDY GROFÉ
Lincoln The Great Commoner CHARLES IVES
Symphony No. 10 Lincoln ROY HARRIS
Abraham Lincoln Walks at Midnight - works by EARL GEORGE, ROY HARRIS, ELIE SIEGMEISTER
Abraham Lincoln Song WALTER DAMROSCH
Lincoln Address VINCENT PERSICHETTI
Lincoln (unfinished) JOHN KNOWLES PAINE
(I would like to hear of other works on the theme of Lincoln)
Bennett wrote four numbered symphonies:-
No. 1 written in Europe (1926)
No. 2 Lincoln - A Likeness in Symphony Form (1929) premiered by Stokowski
No. 3 (1941) inspired by Baseball - The Dodgers
No. 4 (1963)
There is also an un-numbered Stephen Foster Symphony (1954) for chorus and orchestra.
The symphony on this disc was written for the 1929 RCA Victor competition judged by Stokowski, Olga Samaroff, Koussevitsky, Frederick Stock and Rudolph Ganz. The munificent prize ($25,000) was split equally five ways: between Copland's Dance Symphony, Bloch's Helvetia, Louis Gruenberg's Symphony and the two works on this disc. Bennett had entered one serious work and the other a much lighter work. Both won alongside the Bloch, Copland and Gruenberg.
The Symphony is a work of serious and poetic spirit with much of the pugnacious Northern poetry of Hanson's first two symphonies. Indeed Hanson seems to have been something of an influence and certainly he supported Bennett's works in concert performances throughout his life. This symphony is well worthy of that devotion. The hoarsely throaty horns captured in forward splendour in this recording are one of the coronet and laurels of this most rewarding recording. The initial moderato ruffles musingly lyrical waters with fragments of the belligerent Johnny Comes Marching Home. Apart from Hansonian coups there are also some typical Roy Harris eruptions from the brass. The second movement has a restive oboe song and some silky string playing as well as a jaunty cavalry patrol at 2.00. The Allegro Animato (III) has a flouncey dynamically glancing texture - a virtuosic helter-skelter of slides, runs and wilderness hunting calls. The finale is characterised by those grand stabbing and abrasive horns in full flight and hunting call clamour. This is a most rewarding work well attuned to those who love their Hanson, Roy Harris and Malcolm Arnold (anticipating his waspish exuberance and tense lyricism by at least a decade) but with a twist and skew all its own.
The Sights and Sound suite - entitled an 'orchestral entertainment' is the lighter of the two pieces. It is not however light in the Ferdy Grofé sense. It is more a dashing concerto for orchestra - a work alive with the chaotic collage spirit of a child's colouring book. The work bursts with impressions: poetic, popular, banal and catchy. It seems a natural counterpart to the John Alden Carpenter works like Krazy Kat, Skyscraper and Adventures in a Perambulator. A slightly jazzy atmosphere crosses its pages but not suffocatingly so. The voices of people like Stravinsky (Rite of Spring), Constant Lambert (Piano Concerto), gamelan and Bartók are not far off and if some of these voices seem advanced for the time the coating given to these influences is candy-coated without being saccharin. Nothing is tough to take on. As a series of contemporary sketches it is more successful than George Lloyd's similarly themed 1960s collage Charade. Another voice in there is that of Vaughan Williams and he also glances out through the pages of the symphony. The fruity-chirpy of the sax at track 9 0.35 in the Fox-Trot is a winner. This piece is much better than the notes and the movement titles (Union Station, Highbrows, Lowbrows, Electric Signs, Night Club, Skyscraper, Speed) hint. This is no Grofe or Coates style (and I like both composers by the way) novelty box of tricks.
Great notes by Bennett biographer George J Ferencz.
A valuable collection with plenty to enjoy in fact, all in all, quite a revelatory disc - a jewel in the Naxos crown. A CD that makes me want to hear more Bennett. How about the other symphonies?
Reviewer
Rob Barnett