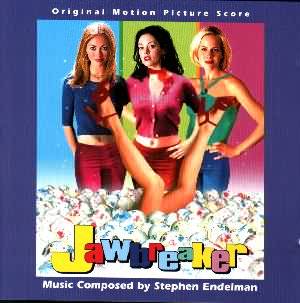 Darren Stein's comedy is about American prom queen society and is a sour reflection on what can go wrong with a practical joke. On the morning of her seventeenth birthday, Liz is kidnapped by her three friends (with friends like this who needs enemas) who plan to torture the birthday girl with a breakfast of pancakes. They tie her up and throw her in the trunk of a car. In the process Liz has been gagged - literally, with a Jawbreaker and duct tape. When the girls open the trunk, they find Liz dead. The character Zach (Ethan Embrey) is Reagan High School's most prominent actor, so he's called a "fag" by the "in crowd." Speaking of Reagan, did they ever find his brain? Zach becomes a catalyst for change when he falls for Julie (recently ostracised from the Flawless Four), because she threatens to tell the authorities the truth behind the death of Liz.
I have to admit to a yawning disinterest in the content of U.S.A. prom films, if they all vanished without trace the world would be a better place.
Scores are eventually settled, but not at the police department or even in the principal's office. The world of Jawbreaker begins and ends at school, and the prom is such a handy device for exacting revenge (yawn, yawn, oh my, I didn't see that one coming…..).
The soundtrack for the film is a brave attempt by Stephen Endelman to capture the girly, sassy atmosphere required and I suppose as a composer, he has achieved the objectives commissioned for the film.
For me the mixture of sugary, tinkly musical allegories with the pop beat of MTV culture and some nods at Hitchcock and Twilight Zone-type motifs made my teeth itch.
The vocals of "ah-ah-ah-ah-ah-ah….ahhhh" on the notes A,B,A,B,A,B and G sharp are "featured" in several tracks and I now have those notes blocked out on my guitar so I never, never, never, ever hear them ever again. This is not bothering me at all, I can review objectively, honest. Look out! Here's a two-note piano "scary bit" (goodness somebody's gonna get squished) that has me so scared I nearly blinked.
HOWEVER! Come on, wake up, pay attention! I did like the version of "Young at Heart" with a slow rap drum part, strummed guitar and flute. It was an entirely inappropriate arrangement of course but it is quirky and "different". Connie Petruk's vocal is cutesy in a subtly malevolent sort of way and she carried the tune with a softness and innocence that is engaging.
Overall as a soundtrack it gets the job done but I would have preferred to listen to it with tape over my ears….(now that sounds like an idea for a movie…).
Reviewer

Warwick Mason