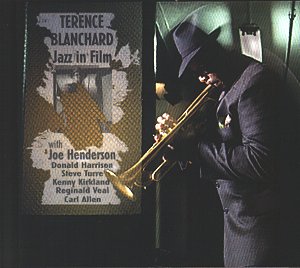 Having been so successful with his film score for Clockers, it seemed like a good idea to have Terry Blanchard produce his interpretation of the music written by people like Duke Ellington, Elmer Bernstein and Andre Previn for other films. Whoever's idea this was, it was a stroke of pure genius. This is one of the most interesting additions to the Jazz Library in years and establishes Terry Blanchard right up there with those legendary composers and arrangers mentioned earlier. This is an album that could only have been made by someone from the jazz fraternity, who could get the mixture right, the right musicians, with a top class score, but with space for individual expression.
All the arrangements are by Terry Blanchard, a monumental piece of work! Blanchard was born in New Orleans in 1962 and came to prominence with Art Blackey's Jazz Messengers in 1982. His partner in the front line of that Band was another young musician from New Orleans, Donald Harrison whose top class Alto playing blends so well with the leaders Trumpet. The experience of touring with a Band like the Jazz Messengers always has a great influence for good on young musicians. Tenor Saxophone player Joe Henderson is well known to most jazz fans, he has led his own Quartet for many years after working with Horace Silver,Herbie Hancock and for a time with Blood Sweat and Tears. He is one of the most influential and gifted of modern jazz saxophone players. Trombone player Steve Turre is another top rate musician who has already recorded several albums under his own name.
The late Kenny Kirkland on piano is a real inspiration, in his sleeve note Terry Blanchard said he waited to record the album, until Kenny was available it is easy to see why. the Bass playing of Reginald Veal and the Drumming of Carl Allen are totally sympathetic to the needs of the front line, how I wish it was always thus!
In an Album of this type there are usually some tracks that you like better than others, in my case I just thoroughly enjoyed the whole thing and I am left hoping that there will be a follow up very soon.
This is a five star album, of that I have no doubt! If I was on Desert Island Disks it would be one of my choices.
Reviewer
Don Mather

1. A Streetcar Named Desire
2. Chinatown
3. The Subterraneans
4. Anatomy of a Murder
5. The Pawnbroker
6. Taxi Driver
7. Degas' Racing World
8. Man with the Golden Arm
9. Clockers