Remembering Chet; Playing By Heart; Game of Hide and Seek; Tenderly; I Didn't Love You Less; A Place Inside Alive and Well & First Take; Scene Unseen; You Go to My Head; I Want to Stay the Night; Good Night Moon; Mark's Graveyard Site; Thees Foolish Things; Playing By Heart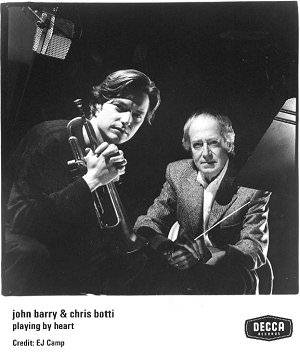 .
This is film music of the finest quality, you can almost feel how it will be used in the film, but it stands alone as an excellent piece of musical composition and performance.
Willard Carroll the writer and director of the film 'Play by heart' felt that a number of the classic recordings by Chet Baker, a West Coast jazz legend of the 1950's, was the kind of music the film would need. John Barry was chosen to write the score, John is a Trumpet player anyway and by coincidence an admirer of Chet Baker.
Baker was a man who had everything and lost everything. He was very handsome as a young man and he played the Trumpet with a unique and immediately identifiable style.
In 1952 he joined the Gerry Mulligan Quartet, a group which was to become one of the all time jazz greats and within six months jazz fans world wide were aware of Chet Baker!
In 1954 he formed his own Quartet with influential pianist Russ Freeman and continued to be in world wide demand. He lost everything and probably his life as well, due to his drug addiction, he was beaten up by hoodlums in San Francisco and lost all his teeth in 1968. He recovered however and continued to play beautifully. His death, which may have been narcotics related, was from falling from a hotel window in 1988 when he was 59. There was always a sadness in his playing, even songs with happy lyrics sounded like sad songs when played or sung by Chet Baker.
The Trumpet playing on the CD is by Chris Botti whose work has been mostly heard backing rock artists such as Bryan Ferry, Jane Silberry and Sting. He studied at the prestigious Indiana University with David Baker and later in New York with Saxophonist George Coleman and the late Trumpet player Woody Shaw. Chris catches the Chet Baker mood perfectly, but there is much more to this man than a mere imitator, he is a very fine musician in his own right and I intend to look out for his name on future jazz releases. I rate him very highly indeed.
John Barry's score is evocative and having read the plot it is easy to see how he has caught the mood of the film so well. In the UK, John is best known for his band the John Barry Seven, he played the Trumpet in several Big Bands however before forming his own outfit.
Film music however has always been his first love and he studied with teachers as diverse as Dr. Francis Jackson from York Minster and Bill Russo from the Stan Kenton orchestra.
You don't have to be a jazz buff to like this record, if you are there is a bonus for you, but even if the jazz talents of Chet Baker and Chris Botti are not your bag, this is wonderful mood music. There is a flavour of bitter-sweet sadness which pervades throughout, but this music is not depressing; it is just the kind of thing that helps when the world does not go exactly the way you would like it to......................BUY IT!
Reviewer
Don Mather