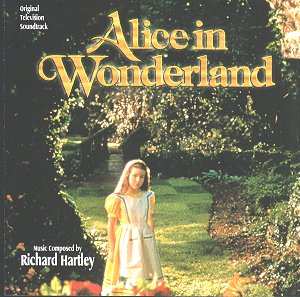 I have been rather out of touch with TV recently so am not sure if this has been shown on British TV yet. From the sketchy information it seems probable that this is a loose adaptation of the much-loved book. (Much-loved … yes … but I wonder how many people have read it?)
Anyway, to help identify the production, this one features the usual star-bolstered cast including Whoopi Goldberg as 'Cheshire Cat-Face', Tina Majorino as Alice, Miranda Richardson as Queen of Hearts, Gene Wilder as Mock Turtle, Heathcote Williams as Mr Eaglet, Ken Dodd as 'Mr Mouse', Robbie Coltrane as Tweedledum and George Wendt as Tweedledee.
The music, of which there is oodles (to use a technical phrases meaning lots), is magical and very strong. Inevitably this orchestral score is eclectic, drawing on many sources and styles though not so many that it loses consistency. Malcolm Arnold's woodwind writing, especially for the oboe, is an obvious influence (note Arnold's lively and poetic Oboe Concerto), the fey Celtic 'oirishry' of the Titanic score is noticeable, Danny Elfman's romantically snowflake-swathed Edward Scissorhands is also a benevolent presence as is a dreamy impressionism (straight out of Ravel's Introduction and Allegro) so suited to the subject. Track 31 Into the Book has the galloping drama of the music for The Magnificent Seven and is a surprising but also commanding moment.
The songs (of which there are ten among forty tracks) are charmingly sung by Tina Majorino, Gene Wilder (Mock Turtle), Martin Short (Hatter), Ken Dodd (Mr Mouse!) and Elizabeth Spriggs (not Springs as quoted in the liner note!) as the Duchess.
This is a very strong score orchestrated with taste and recorded with lucidity. Altogether this is an atmospheric score well able to hold its head high in the company of scores for the big screen. I hope that the Hollywood moguls are aware of Hartley. For now snap up this superb release from Varese-Sarabande. Do not let the fact that this was written for TV put you off.
Reviewer
Rob Barnett