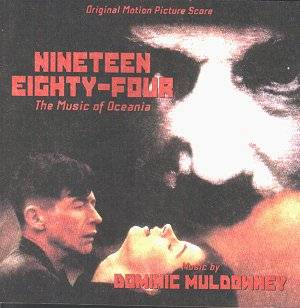 This is an intriguing album. It brings us another score in the annals of those written and never used. The birth and incredible expansion of the CD catalogue has brought us recordings of discarded scores by Schurmann (The Gambler), Walton (Battle of Britain) and many others. Clearly, a deal of pain hides behind the liner notes from producer Michael Radford. The end-result was that much of Muldowney's score was not used and in its place there were songs by Eurhythmics.
Muldowney is a leading name in the classical music field and may be unfamiliar to followers of film music. He is a British composer born in Southampton in 1952. He was music director for the National theatre and there composed eighty scores. His film music credits include Betrayal (1982) and Ploughman's Lunch (1983). For TV there are scores for six seasons of the Sharpe series (excellent music), Emma (1997) and King Lear (1998). His concert music includes concertos for violin and saxophone.
The present score was written in 1984. The overblown patriotism is extremely well portrayed by Muldowney. The aria Oceania 'Tis For Thee and Hiking Song (all words are reproduced in the booklet) is a hymn to the state's glory and victory. Like much else including some grandiloquent marches it is done with conviction but not so much that you lose the message that this music represents an oppressive regime in bloated celebration. I thought a little of Salammbo's aria (Bernard Herrmann - Citizen Kane) when hearing the Oceania song. Haunting desolation stalks many of the pages of this score although more human and 'man-sized' music is evident from the sections where Winston Smith is in the 'underworld' inhabited by the proles. In summary then the style is melodic and approachable with a political overlay and … well … if you warm to the occasionally Stalinistic bombast don't reproach yourself too much. Ultimately the score suggests tired but strangely satisfying resignation; not at all out of keeping with Winston's state of mind at the end of the book. His world view has changed.
There are excellent notes (English only) spanning 12 pages. Plenty of stills, posters, pre-production drawings and all presented on tastefully done matte paper. Full technical information is given and it is good to see there the name of John Harle (solo saxophone).
Recommended.
Reviewer
Rob Barnett