CLASSIC FILM SCORES ON MARCO POLO
by Richard R. Adams
Twenty-five years ago, RCA Records initiated a new series of recordings devoted to the classic film scores of Hollywood's so-called "Golden Age." The first disc in this series was "The Sea Hawk" which was a compendium of Erich Wolfgang Korngold's Warner Brothers film scores. The composer's son, George Korngold, produced the series and long-time record-producer Charles Gerhardt conducted London's National Philharmonic Orchestra. Several discs were issued over a 10-year span including those featuring the music of Alfred Newman, Max Steiner, Franz Waxman, Bernard Herrmann, Miklos Rosza, Dimitri Tiomkin and John Williams. These recordings are still admired for their state-of-the-art analogue sound and red-blooded interpretations. Some have criticized the "greatest hits" approach taken by this series but few would deny its importance in introducing the music of old Hollywood to new generations of music lovers; many of whom were born after these composers had retired.
The only current series that can in any way be compared with Gerhardt's RCA cycle is that featuring the Moscow Symphony Orchestra conducted by William Stromberg on Marco Polo. Like Gerhardt, Stromberg is focusing his attention on "Golden Age" film composers. Both series offer the works of a single composer per disc but the Marco Polo series differs in that it offers extended suites rather than brief snippets as was the norm with the RCA series. The Marco Polo series is also more inclusive in that it features the works of some of Hollywood's lesser known but no less-accomplished composers including Hans J. Salter, Frank Skinner and even the British composer Philip Sainton.
The Marco Polo series has been carefully guided by William Stromberg and the composer and score-reconstructionist John Morgan. Morgan became involved with Marco Polo when he was asked in the early 1990s by Tony Thomas to reconstruct two of Hans J. Salter's Universal horror film scores for a recording Marco Polo was planning to make in Ireland with Andrew Penny conducting. Morgan, a great devotee of Salter and film music in general, gladly accepted the assignment and reconstructed the music to Ghost of Frankenstein and House of Frankenstein from what little that remained of those scores which was primarily a piano reduction with orchestral details penciled in. The reconstructions were an overwhelming success but the recording itself (8.223477) was a disappointment to Morgan. Penny, a gifted and perceptive conductor, was evidently not familiar with the scores and had not listened to the original soundtracks prior to the recording sessions. His sluggish tempos make the music all but recognizable in a number of sections.
Marco Polo, being very pleased with Morgan's efforts, asked John and his good friend and colleague William Stromberg to reconstruct several scores that were to be featured on two discs being recorded by Richard Kaufman and the Brandenburg Philharmonic Orchestra. These discs (Captain Blood/8.223607 and Historical Romances/8.223608) were very successful and included spirited performances of adventure film scores by Korngold, Newman, Steiner, Young and Rozsa but were hampered by very resonant sound and some less-than-polished orchestral playing. But again, the reconstructions were beyond praise so Marco Polo asked Morgan to continue the film music series in whatever way he saw fit. He chose to go back and rerecord Salter's House of Frankenstein complete, but this time using the recently formed Moscow Symphony Orchestra and William Stromberg as conductor. Morgan's decision to invite Stromberg to conduct was a brilliant choice as he is a composer himself and he possess a deep love and understanding for film music from this period. And while his performances on the two initial Salter discs do sound a little cautious in places, the conducting is idiomatic and he is careful to bring out all the beauty and orchestral color in these glorious scores. The Moscow Symphony has also improved with each subsequent recording and the series is now well underway with more than eight discs issues thus far with many more to be released in the upcoming months. Below is a brief evaluation of the releases issued so far.
HANS J. SALTER and PAUL DESSAU
House of Frankenstein
Complete Score 8.223748
It's rare that a single film score gets two recordings by the same company within a couple of years of each other. It's an indication of how much Morgan and Stromberg love this music that they found it necessary to redo it and include all the music from this charming grade-B Universal horror film from 1944. The first recording by Andrew Penny included approximately two-thirds of the music and Penny's approach was so literal that all the energy seemed sucked out of the music. House of Frankenstein is a very colorful and brilliantly orchestrated score (it uses, amongst other things, a celesta, accordion, organ, harps, novachord, etc). Bill Whitaker, in his superb liner notes, refers to it as a "virtual Hollywood camp Symphonie Fantastique," and I can't think of a better description. Hans Salter worked at Universal Studios between the late 1930s and early 1960s. He didn't receive much recognition during his lifetime even though he was greatly admired by his colleagues, particularly Miklos Rozsa who writes warmly of Salter in his autobiography. The problem may have been that Salter was an overworked staff composer who turned out B-feature scores at the rate of two or three a month. On occasion, he would turn out something quite remarkable, especially considering the conditions he was working under, and he made important contributions to several genres including film noir, (Phantom Lady-1944), the western (Bend of the River-1952), swashbuckler (Against All Flags-1952), musicals (the many Deanna Durbin films) and costume drama (Magnificent Doll-1946) but he seems fated to be best remembered for his many horror films. By the time House of Frankenstein was made in 1944, the horror film genre had just about burned itself out and the film show this. It a rather routine production even though it features fine performances, superb makeup and great camera work. What life it does have comes primarily from the music which uses a system of motifs to represent the many characters. Salter being overworked as ever, brought in his friend Paul Dessau to assist in the composing and arranging. Dessau is credited for writing some of the more eerie and discordant music for the Dracula sequences. The heart of the score is the music Salter wrote for the gypsy girl and the poor love-sick hunchback assistant. She, unfortunately, does not love him and Salter underscores his grief with a theme that is absolutely heartbreaking in its simplicity and beauty. The film ends in a riotous climax which is very noisy and features complicated and thickly scored music. Stromberg is extremely attentive to the many orchestral details in the score and his interpretation has tremendous atmosphere and feeling. His tempos in the "Main Title", "Dracula Pursued" and "Death of the Unholy Three" are quick and lively. My only complaint about this disc is the orchestral playing which is good throughout but probably could have been rehearsed just a bit more. This music demands virtuoso playing of the highest caliber to make its full effect and it still awaits that ideal performance but this is a loving interpretation and a beautifully mounted production of a score few of us thought would ever be recorded, let alone twice!
HANS J. SALTER and FRANK SKINNER
Monster Music
8.223747

Hans J. Salter was not alone at writing scores for Universal's 1940s horror classics. More often than not his scores were collaborative efforts with his colleague and fellow Universal staff composer Frank Skinner. Together they wrote most of the music accompanying the nocturnal wanderings of the Mummy, Wolfman, Dracula, Invisible Man and Frankenstein Monster in those now classic films. This disc features three of their very best efforts: Son of Frankenstein-1939; The Invisible Man Returns-1940 and The Wolfman from 1941. Skinner has been accorded even less recognition than Salter which is tragic as he was an extremely gifted composer with a gift for writing very atmospheric music. He is credited with having composed most of the score to Son of Frankenstein which Salter orchestrated. Legend has it these two composers locked themselves into the Universal music department for 48 hours to compose the music for this film which was being rushed through post-production. Skinner would compose at the piano and then nap while Salter orchestrated his sketches. What's astounding is that in such an unbelievably short period, these two men created one of the great horror scores. Morgan has compiled a comprehensive suite that includes all the main motifs. The performance is very good but in a couple of places ("Discovery", "The Examination") I feel Stromberg adopts too slow a tempo; it's atmospheric but things do drag a little. His handling of the "Monster's Rampage" finale, on the other hand, is riveting. You sense the orchestra is being pushed to give everything its got and the result is a splendid recreation of this supercharged "fairy tale" music. The Invisible Man Returns is a romantic score with a glorious love theme that is credited to Salter and it is a welcome addition. Stromberg and the orchestra are at the top of their form in their performance of The Wolfman. This was one of the last true horror classics to come from Universal Studios and it was given top productions values and first-rate actors. Charles Previn (uncle of Andre Previn) was brought into score sections of the score but most of the music is from Skinner and Salter. What's astounding is that it doesn't sound like a patchwork effort at all. Like the film itself, the music is laden with a heavy brooding atmosphere that erupts on occasion into a violent fury but then subsides into music of even greater melancholy and sadness. There is virtuosic writing for the brass and woodwinds and the Moscow Symphony Orchestra acquits itself well. My only complaint about this recording is the somewhat distant perspective given to the orchestra, a unique situation in this series. Otherwise, this is a landmark disc the resurrects the work of two great film composers.
MAX STEINER
The Lost Patrol, Virginia City, The Beast With Five Fingers
8.223870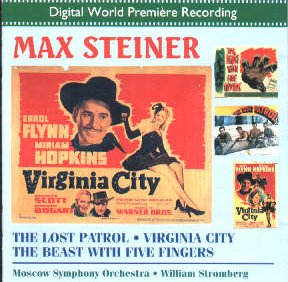 This disc features more refined playing than in the Salter/Skinner discs and Stromberg's conducting is absolutely assured. The problem here is with the music. Steiner is well known (some might same infamous) for his ability to write music that mirrors the action taking place on screen. This ability has been referred to as "mickey-mousing" and its use was common among film composers of that period. The problem with this kind of scoring is that it doesn't always make for interesting listening away from the visuals because it is music that depicts action and movement rather than emotional states or atmosphere. The scores for Virginia City and The Lost Patrol contain a fair amount of mickey-mouse music and some might find the original material just a little too slight particularly when so much of these scores is made up of popular folk tunes, anthems, cavalry marches, etc. Personally, I found these scores extremely enjoyable but then I love these two films and hearing these scores so beautifully played and recorded brought back the pleasure and excitement these films evoke. Undoubtedly the highlight of the disc is The Beast With Five Fingers. Horror films always bring out the best in composers probably because these films are so dependent upon the composer to create atmosphere. Steiner proves he is the equal of a Waxman, Herrmann or Salter in this regard. From the opening crashing chord to the brassy arrangement of Bach's Chaconne (Study #5) you know you are in for something very special. There is a charming Tarantella that precedes the first statement of the Bach theme on the piano which the film's title character plays (with the assistance of some amazing special effects). The Bach theme is offset with a love melody that is vintage Steiner (could anyone write more beautiful melodies?) The Storm music offers some dazzling harmonic displays erupting from wailing brass, trilling notes at the piano and frenzied strings. It's as advanced as anything being written at that time in Hollywood and it even recalls the music Dimitri Tiomkin would compose for The Thing five years later. Needless to say, Stromberg holds it all together with perfect control and the orchestra sounds world class. The presence of this score on this disc makes it an essential buy.
HUGO FRIEDHOFER
The Adventures of Marco Polo, The Lodger, The Rains of Ranchipur, Seven Cities of Gold
8.223857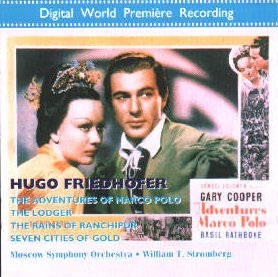 The great glory of this Marco Polo series is its attention to those composers who have received less than their fair share of attention from film fans and recording companies. This disc is the ideal introduction to the very subtle and sophisticated compositional style of Hugo Friedhofer. Friedhofer was highly regarded by his colleagues; both Korngold and Steiner used Friedhofer to orchestrate their scores. His first scoring assignment was The Adventures of Marco Polo which he did for Samuel Goldwyn in 1937. William Stromberg has assembled a nice suite for this recording which he also conducts with great panache. The music itself is enjoyable if a few shades less distinctive than what Korngold was writing for similar films at Warner Brothers. According to Tony Thomas' liner notes, Friedhofer wasn't assigned to compose another score until he went to work for Alfred Newman at 20th Century Fox. One of his first assignments there was for John Brahms' great 1944 thriller, The Lodger. Friedhofer's moody, foreboding music is as central to the film as is Laird Cregar's unforgettable performance as the title character but the music's effect is very subtle and atmospheric; very similar in style to the Roy Webb film scores for Val Lewton's thrillers. It is music that does not draw attention to itself within the film and it's inclusion on this disc may seem strange as a result but with repeated hearings, the music takes shape and the listener can enjoy this composer's bold harmonic language and distinctive use of lean orchestral textures. The scores to The Rains of Ranchipur and Seven Cities of Gold both come from 1955. The score for The Rains of Ranchipur is the highlight of the disc; a ravishingly beautiful creation which in John Morgan's brilliantly reconstructed suite (lasting nearly 20 minutes) comes off sounding a bit like an impressionist tone poem. The music for both this film and Seven Cities of Gold seems a good deal more restrained and substantive than a lot of the movie music coming from that period or even today-- not one ounce of bombast. I can't imagine that Stromberg's performances could be improved upon. The Moscow Symphony Orchestra gives impassioned and sensitive performances.
ERICH WOLFGANG KORNGOLD
Another Dawn, Escape Me Never
8.223871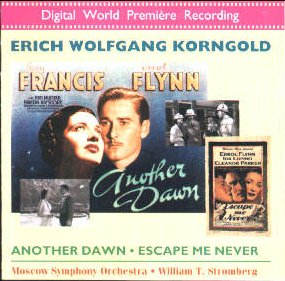 Music of Erich Wolfgang Korngold is not a rare commodity on compact disc. Several of his scores have been recorded complete including The Sea Hawk, Adventures of Robin Hood, Kings Row, Elizabeth and Essex and Anthony Adverse. William Stromberg recorded an extended suite from Prince and the Pauper for RCA (09026 62660 2) which is delightful and this Marco Polo disc is every bit as fine. Another Dawn, which Tony Thomas in his liner notes refers to as an "improbable soap opera," was made in 1937 and starred Errol Flynn. However bad the film may be, it contains some great music and Morgan is again to be praised for resurrecting it from oblivion. Evidently the film was cut before release and much of the music was trimmed along with it but Morgan has restored it for this recording. The entire score lasts nearly 50 minutes and it contains some of Korngold's most exciting music as well as one of his grand love themes that anticipates the beuatiful melody Max Steiner would later write for A Summer Place. There are also some interesting references to other composers (The Battle) which includes a near direct quotation from Mahler's Third Symphony. This disc also includes the ballet suite from Escape Me Never which Morgan presents in a "completed" version. The performances of both scores are first rate. This is also one of the best sounding discs in the series. There is a natural amount of reverberation and the sound field has a nice front-to-back depth about it. This is another unqualified success from this series.
MAX STEINER
King Kong (Complete Score)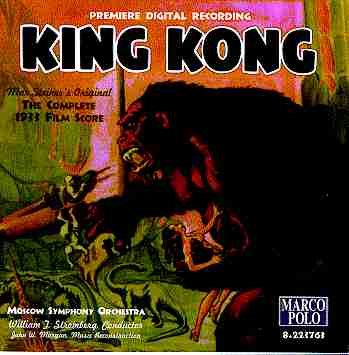 This disc has been universally praised since it's release in early 1998. It has also been reviewed on this website by Ian Lace. I have little to add to what has already been said other than to say Fred Steiner's recording on Entracte used Christopher Palmer's reconstruction which is neither as authentic or complete as John Morgan's reconstruction for this disc. That alone is reason enough to prefer this newer recording. The sound on the Marco Polo recording is natural with a nice sense of space around the instruments. Stromberg is in complete sympathy with this music and he gets some very atmospheric playing from the Moscow Symphony, particularly in the "Boat in the Fog" music. Admittedly, Fred Steiner's National Philharmonic is quite a bit more virtuosic in the more dramatic passages of the score, particularly the "Aboriginal Sacrificial Dance" and the music depicting Kong's rampage over New York. But the Moscow Symphony Orchestra plays well enough. This is a splendid disc and is worthy of all the attention it has received.
ALFRED NEWMAN
All About Eve, Beau Geste, The Hunchback of Notre Dame
8.223750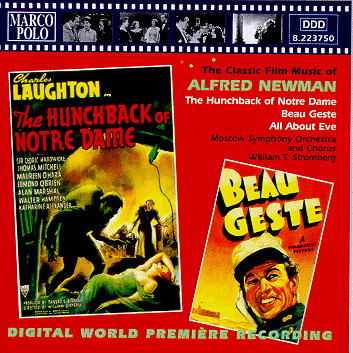 This Alfred Newman disc came out at about the same time as King Kong but it didn't generate the same excitement which is unfortunate because it may possibly be the best disc this series has yet produced. Newman was arguably the most celebrated film composer in his day, receiving more Academy Award awards (nine) and nominations (45) than any of his contemporaries. It's easy to understand why when listening to the extensive suite John Morgan arranged for Hunchback of Notre Dame. This landmark score for William Dieterle 1939 film is a magnificent creation which showcases Newman's greatest gift as a composer; his ability to write ravishing melodies and motifs which he then develops with all the sureness of a most classically trained composer. There are motifs for almost all the major characters as well as an Ave Maria to represent the Church itself (evidently taken from a theme of Tomas Luis de Victoria). These motifs are interwoven throughout the score but it is the Ave Maria and the swooping motif for Esmeralda that predominate. One of the more controversial sections of the score is the famous Hallelujah choral sequence where Quasimodo rescues Esmeralda from the scaffold. At least one musician present at the original recording session attributes this music to Ernst Toch. Bill Whitaker's brilliant liner notes discusses this in some detail and makes for fascinating reading. It is great to have it available in a performance that is in turns thrilling and deeply moving. The other major score, Beau Geste, is also performed with great gusto. Indeed, the Moscow Symphony Orchestra sounds more polished and assured in this recording than in any other in this series. This music conjures up all the boyish excitement, valiant heroism and exotic atmosphere that is so abundant in the film. Again, the themes are strikingly fresh and memorable and William Stromberg's 20 minute suite makes for a vastly entertaining experience. The short suite for All About Eve is very fine and left me wanting to hear more of the score. This disc is the ideal combination of careful selection of materials -- lovingly reconstructed and then performed with careful attention to style by musicians who love this music. This disc indicates the Marco Polo series has hit its stride and if John Morgan and William Stromberg can maintain this same high level of artistry, then this series should confidently succeed Charles Gerhardt's RCA cycle as the most important film score series devoted to recreating the music of Hollywood's "Golden Age."
Just released is Bernard Herrmann's music for Garden of Evil and Prince of Players (8.223841). It will be reviewed elsewhere on this site. There are several discs awaiting release at this time including an album featuring the music of Victor Young, complete recordings of The Egyptian (Newman/Herrmann), Moby Dick (Philip Sainton), Mr. Skeffington (Waxman), They Died With Their Boots On (Steiner), Devotion (Korngold) and to be recorded next year, Roy Webb's music for Val Lewton's horror films and a rerecording of Ghost of Frankenstein along with additional Salter material.
---
Return to Film Music Main page
---