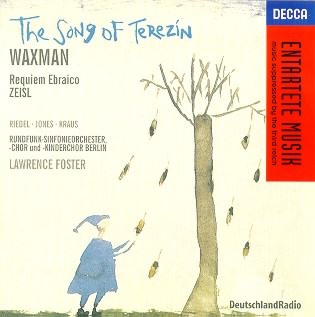 To quote Michael Haas, the executive producer of this album, "These works are the reactions of two European-born Hollywood composers to the Nazi show camp of Terezín. Waxman's work is a powerful song cycle using the words of the children of the camp, while Zeisl's Requiem in memory of his murdered father is an emotional and moving liturgical work.
Franz Waxman, of course, enjoyed considerable success as a composer of music other than for the screen and it must be remembered that he, himself, had experienced Nazi brutality in 1934 and had fled Germany after he had been beaten up on the streets of Berlin. The Song of Terezín was composed between November 1964 and February 1965; it is therefore a late work. Its overall mood is of tragic melancholy; only in a few places does the music become somewhat light-hearted as in the song of "The little mouse" but even here there is a sense of heavy irony and there is a steely edge to the music. The opening movement, with its jack-boot like figures, represents the barbarity and cruelty of the concentration camp but elsewhere in these songs there is also defiance and a hope for better things as well as a sense of cold remoteness and despair. Waxman's command of dramatic tension and colourful orchestral writing is always evident and his music reflects the influence of Schoenberg, Richard Strauss, Zemlinsky and Berg. The final movement, "Fear", is a poignant and chilling indictment of the Holocaust: O God! Do not forsake us in our pain - Death is coming...Do not forget us..."
Eric Zeisl, after escaping the Nazi regime in Austria, escaped via Paris and New York to Los Angeles where he collaborated on more than 20 films before concentrating on compositions outside the film world. His Requiem Ebraico enjoyed considerable success. It is a much warmer work than the Waxman. Composed in one continuous movement, it alternates choral, solo and duet passages. To quote from Manuela Schwartz's notes, "...the expressive Romantic school of Mahler or Bartok and French models like Fauré, combine with oriental traits to form an impressive musical whole." The music is often very beautiful and, although the baritone solo "Oh how great are thy works.." introduces darker figures to cover the struggle between good and evil, the work ends in a glorious life-affirming fugal chorus culminating in a glorious major chord.
The Berlin choirs, soloists and choirs under Lawrence Foster, who, incidentally is pictured with Franz Waxman in the booklet, give excellent committed performances. A sometimes harrowing but a deeply moving musical experience that every serious student of the Golden Age of film music ought to have in their collection.
Reviewer
Ian Lace

---
Reviewer
Ian Lace