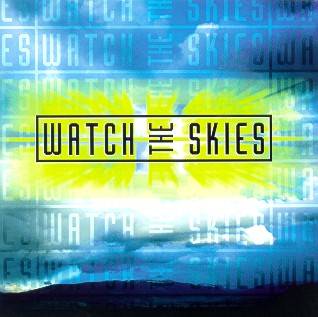 Collection features music from: The Day the Earth Stood Still; Mars Attacks; Species; E.T.; Contact; They Live; Men in Black; Predator; Aliens - The Ride; Alien; Invasion of the Body Snatchers; Roswell; The Tommyknockers; Dark Skies; The X-Files; Independence Day
This a cracking collection intelligently compiled and generous in its almost 74 minute length. The sound is absolutely stunning. The album contains material from the Telarc and Silva Screen libraries plus some material that has never been released before
The compilation kicks off with Bernard Herrmann's ground-breaking music, for The Day the Earth Stood Still using, so very imaginatively the theremin, electronic violin, electronic bass and electric guitar. Immediately afterwards we get Danny Elfman's cheeky send up of the 1950s sci-fi music in his score for Mars Attacks and, later, his wild and whacky Men in Black music given some extra magic by John Beal. Christopher Young's marvellous and mesmerising score for Species proves that you can be quietly malevolent. John Williams is represented by his E.T. music in a nice relaxing piano solo medley played by Michael Chertock.
Alan Silvestri's lovely music for Contact was one of my favourite scores of 1997- beautifully serene and compassionate in stark contrast to the other Silvestri score here, the harsh and relentlessly driving rhythms of Predator, this performance produced and performed by John Beal. They Live has a sleazy, slinky theme from John Carpenter and Alan Howarth while Richard Band's creepily exciting music, based on James Horner's Aliens theme, designed to heighten the thrills of a popular Aliens amusement park ride. Jerry Goldsmith's End Title from Alien is broods upon the vastness of space, the music growing almost Vaughan Williams mystical.
Three or four tracks are devoted to electronic led scores: Denny Zeitlin's quirky and increasingly eerie music for Invasion of the Body Snatchers; Elliott Goldenthal's spooky synthesizer score for the cable-TV movie, Roswell; Christopher Franke's equally eerie electronic score for the Stephen King shocker, The Tommyknockers; and Michael Hoenig's more introspective electronic/acoustic Epilogue music for the TV series, Dark Skies.
One of the most interesting tracks is Donald Fraser's arrangement of Mark Snow's theme from the X-Files - arranged, very cleverly, in the style of Alan Hovhaness.
The programme ends in great style with David Arnold's End Credits from his Independence Day score given an absolutely cracking performance by the City of Prague Philharmonic Orchestra and Crouch End
Reviewer
Ian Lace