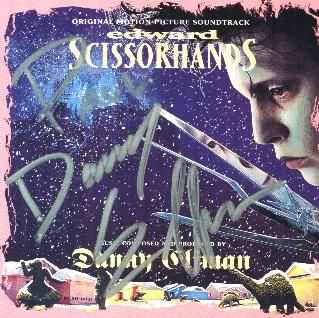 (This cover is signed by the composer. We were unable to get an original unsigned copy)
It is with some trepidation that I attempt a review of this now nearly 10 years old score.
I have collected so many gushing comments and opinions, that it seems almost unnecessary to add to them. So instead, I will repeat some for the casual reader.
Alongside my own appreciative recognition of its debt to Prokofiev, I know several composers who have 'got' the score once they saw that link. The portrayal of fairytale innocence could so easily have slipped over into maudlin excess, but a rooting in a classic style didn't have to mean that. So by combining with his own inimitable unpredictable sense of rhythmic structure and penchant for peculiar instrumentation, Elfman hit upon the sublime result that speaks universally to the heart.
Those composers cite it as among their favourite contemporary scores, and certainly of Elfman's own body of work. I mean for their praise to stand as worthy testimonials, but then there are my friends who were reduced to tears by the film. I will always remember seeing a Horror fanzine placing the album above thrash metal entries in CD reviews when the film was released!
How would the sight of Depp in Burton-mimicking dress and fright wig have been perceived without the Paulist Choristers of California ? Could anyone take the clash of suburbia and Hans Christian Anderson seriously without the tinkling of a harp and triangle ? Ultimately the film and score's "Grand Finale" defy anyone not to reach for the tissues. It sums up this symphony of the lover's soul as magically as anything ever has in the history of cinema. This is quite simply one of the greats.
Reviewer
Paul Tonks