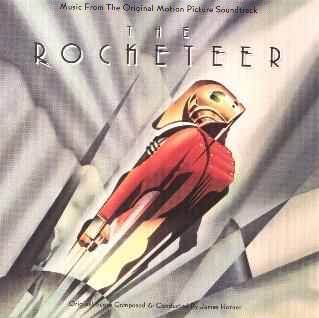 The "Main Title" and main theme of The Rocketeer have always managed to pull off the same trick as The Blue Max for the listener by instantly conjuring an image of 'flying'. That's the immediate success of the score, but it's coupled with some of Horner's most detailed action writing, and a beautiful love theme.
There are plenty of familiar licks in the music that hearken back to the Star Trek scores, and pre-date Titanic amongst others. Yet its arrival in 1991 was a milestone since Horner seemed to have weaned himself off genre pictures altogether.
"The Flying Circus" is undoubtedly the score's highlight. It 'Mickey Mouses' the aerial display of Cliff Secord's first flight superbly, with lots of ascending and descending chords.
Another terrific showcase is "Jenny's Rescue". With snatches of Timothy Dalton's baddie theme throughout "Rendezvous At Griffith Park Observatory", that too is a great cue and what helps make them so are their generous length.
The two source songs may seem like padding being sequenced among the score cues, but they were featured prominently in the film, and do sit rather well in context.
What a shame this never became the franchise it was planned to be.
Reviewer
Paul Tonks

See also Ian Lace's review last January
http://www.force9.co.uk/music/film/jan99/horner.htm