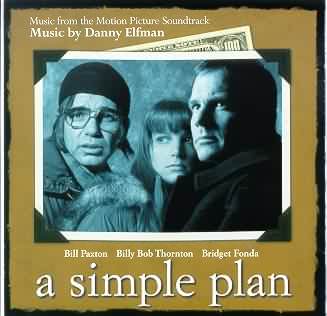 Although A Simple Plan has gathered Oscar nominations for Billy Bob Thornton in the Supporting Actor category and for Screenplay-Adaption, it is hardly surprising that the conservative Academy would risk a nomination for such a daring score as the one Danny Elfman has created for this film.
In an interview, Elfman has agreed that it is a subtle rather than a bombastic action/thriller score. Talking about its unusual orchestration, he commented, "Very often in a movie I design the score around a sound or sounds that I think will be unique to that picture. Certainly in a movie like A Simple Plan it needed some special or unique tones, the tone of the movie was very tricky. So there are two thematic areas, one of them was a flute ensemble. It was a fun orchestra for me to work with because there was really no brass, no percussion. It was just flutes, lots of flutes, nine of them mostly alto and bass. That was kind of a fun thing, very, very simple, sparse ensemble led by alto and bass flutes. The other part of it was these specially tuned pianos that I prepared before I started and specially tuned banjos... Starting with these two odd tonal groups, I began composing the score..."
So does it work? Well, yes it does. Elfman uncannily catches the intense chill of a wooded landscape in the iron grip of winter, and the human emotions and drama proceeding against this backdrop. The Main Title is icy and crystalline, the music, using the effects that Danny describes above, glissandos between tonality and dissonance giving a remote feeling and also a sense of intense cold before the entry of the piano ushers in warmer, more humane music. "The Moon" is a hoary-frosty, impressionistic picture using vibrating- reed woodwinds very creatively, together with those little fairy bells. For "The Farm" Elfman uses harp and strings to depict its isolation amongst the icicles (you can hear them tinkle) with snatches of dissonance at odds with warmer music portraying the warmth inside the farmhouse. "Betrayal" is a crescendo in menace with odd instrumentation and electronics: rattles, slithery strings and vibrato reeds all adding to the terror. "The Badge" is pursuit music eerie and urgent; "Stop It" adds howlings. "Tracks in the Snow" carries the menace further. The music in this macabre cue, trudges along "into the forest" until you a distinct feeling of "what's that lurking amongst those trees?"; this interesting cue stretches the music to the extremes of (electronic) bass and treble. The next two tracks bring back some warmth: poignancy against the frost for "Death" and "Burning $" brings something of a thaw and a sense of release - a catharsis. The music relaxes and the sun comes out and the End Credits look forward to Spring, then all the quirkiness is recapitulated before the score ends in quiet resignation.
Also included are three songs: "Preachin' The Blues" performed by Imperial Crowns; "So Sleepless You" performed by Jolene and "Deliver Me" with Tina and the B-Sides. Pass!
This is doubtless a wonderful and powerfully evocative score in the setting of the film - as regards it value as music for repeated listenings this will vary according to taste but full marks for innovation and imagination
Reviewer
Ian Lace

See Interview with Danny Elfman