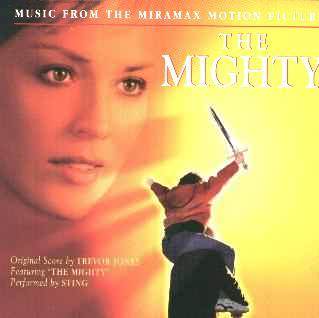 The key word for this score, is understated. For its greater part, the music sensibly takes a back seat to the emotional storyline. Thankfully it never 'overdoes' it. The performances could easily have been disrespected by too much schmaltz, but Jones found one of his most intriguing mixes of style to complement them.
All through "Dreaming Clouds", "First Flight", and "Life's Rough" it is with piano and soft strings that the boys' developing friendship is communicated. The occasional comedy is allowed to speak for itself on screen without being hammered home in music. The subtle approach also opens both of the albums' sizeable cues - "The Mighty Quest" (over 14 minutes), and "My Noble Knight" (over 8). The first develops from a piano piece reminiscent in style and mood of Stanley Myers piece from The Deer Hunter. It moves between synth passages and a gentle orchestral performance of the principal theme, and builds at one point to a charging moment of drama that is the only telltale moment of Jones' recognisable style. The large scale dynamics of Dark City and Merlin are recalled, but it certainly doesn't detract.
With "My Noble Knight", both film and score succeed in a wrenching tug on the heart strings. It is almost the film's climax - a tragedy you hate to realise is coming. The extended sequence is given over completely to Jones' music, with no other sound whatsoever. The gorgeous elegy he has created deserves to stand as one of his premier achievements.
The other sound woven into the whole adds to this being such a charming surprise of styles. Since the boys are fantasising about the Arthurian legends, who better than the composer of Excalibur and Merlin to inject some medieval pomp ? "Past Times" introduces what seems like a court dance immediately, and it re-appears most dramatically after the harmonica folksy segment of "Free To Fly".
The song co-written with Sting is for once an integral part of the film, with appropriate lyrics and features in a montage sequence of the boys first befriending each other. It has 2 different versions on offer too. "Future Times" - the last score cue of the disc - is effectively an instrumental of the song. Rounding it all off is "Let the Good Times Roll".
Reviewer
Paul Tonks