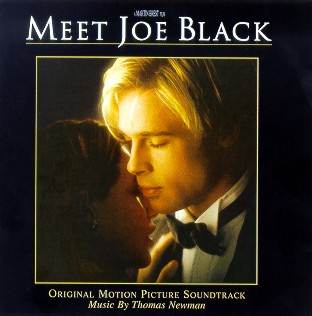 Meet Joe Black received mixed reviews. Could one really imagine heart-throb Brad Pitt as the Grim Reaper? Credulity is strained still further when he falls for Claire Forlani daughter of mogul Anthony Hopkins whom he, Death/Joe Black, has come to claim but allows a stay of execution provided Hopkins gives him a guide to human life.
Thomas Newman delivers a thoughtful, understated score of mainly slow, quiet, strings-dominated music for this essentially romantic drama. The opening cue "Yes" is mysterious and timeless. This sense of timelessness and time moving forward is nicely captured in the second cue "Everywhere Freesia", which invokes classical, neo-classical, impressionistic and romantic styles as though suggesting that Death like taxes is always with us.
The string-led melody for "Walkaway" has a haunting and limpid beauty. "Meet Joe Black" mixes string shudders (a nice little touch) with warmer material but the overall mood which Newman cleverly creates is one of daunting mystery but at the same time the music is also curiously inviting and sensuous - an example of how adept Newman is at creating a mix of emotions and moods.
"The Peanut Butter Man" another mysterioso cue that mixes hesitant pizicatti walking figures with quietly grotesque woodwind and percussion and piano figures; a remarkably imaginative cue. Another interestingly scored cue is "Fifth Avenue" deep bass drum beats and cross-rhythmed strings with softly brushed cymbals and clarinet make this a very colourful walk.
Many of the cues such as "Whisper of a Thrill" are hushed romantic experiences until later in the cues "Served its Purpose", "Sorry for Nothing", "Mr Bad News", the orchestration broadens, the tempos quicken or the music darkens for the dramatic crisis. Again Newman superbly, elegantly creates just the right atmosphere and avoids the usual clichés. The most stark cue is "The Question" sounding bleakly remote and hollow. "Someone else" which follows is another lovely cue poignant and slightly reminiscent of Vaughan Williams.
In the considerable 10 minute cue "That Next Place" we have music that rises to forte as it sings gloriously of hope and affirmation as well as recapitulating the earlier lovely romantic material.
The album also contains music from, presumably, the ballroom sequence - i.e. very attractive renderings of Irving Berlin's "Cheek to Cheek" and "Let's Face the Music and Dance", and George Weiss's and Bob Thiele's "What a Wonderful World."
A nice album to consider as relaxing late night listening. Another feather in Thomas Newman's cap.
Reviewer
Ian Lace