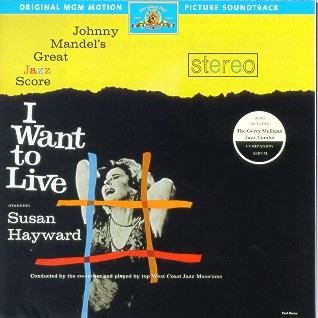 Any CD, on which the composition and musical direction is by Johnny Mandel, is always worth hearing and this one is no exception. The album is in two parts; the first consists of 16 short tracks that were used in the soundtrack on various sequences of the film. They are played by a 26 piece studio orchestra which included Bill Holman on Tenor and Baritone saxes, Jack Sheldon on Trumpet, Russ Freeman on Piano, Larry Bunker on Vibes and Drums and Abe Most on Clarinet.
The arrangements are impressive, the musicianship immaculate, but I have to confess that sometimes for me, film music taken out of it's context, has a strange feel about it.
Part two however is absolutely the kind of music I like best.
Johnny Mandel' s imaginative compositions and arrangements for a Septet led by Gerry Mulligan are a recipe for musical enjoyment. The Septet is completed by Art Farmer on Trumpet, Bud Shank on Alto and Flute, Frank Rosalino on Trombone and a superb rhythm section consisting of Pete Jolly on Piano, Red Mitchell on Bass and Shelly Manne on Drums. Rhythm sections don't get better than that! Gerry Mulligan was a jazz giant who will be sadly missed and on this session, the combination of Johnny Mandrel's imaginative arrangements and a group of the very best jazz musicians playing at the top of their form, produce a stunning result. The rhythm section in which Pete Jolly is superb is one of the best I have ever heard. In summary, a very interesting release, particularly the jazz combo, which is an absolute joy!
Reviewer
Don Mather

Reviewer
Don Mather