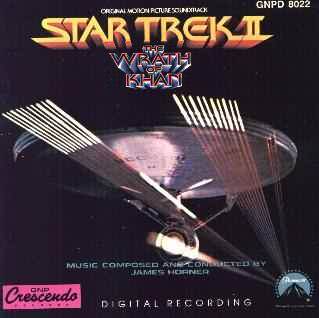 At the very start of his career, Horner was knocking out pure genius on a daily basis, and this was the big break wherein it first truly got to shine. Every moment of Trek 2 shines with a satisfied smile on its face, knowing it works to picture with perfect exactitude.
Beating the audience appeal of the first movie wasn't a tough job, but matching the quality of the score was going to be. Director Meyer didn't manage to secure Miklos Rozsa sadly, and instead turned to this particular freshman to see if he could 'get' the nautical and classical vision her shared with creator Roddenberry. If "Main Title" doesn't answer that question for you, you need proceed no further.
Let me highlight the highlights: Khan's theme / the eerie underscore when Chekov finds Khan / the submarine-like "Battle in the Mutara Nebula" / the wondrous music for he Genesis cave / the perfect balance of adrenaline suspense with growing fear for Spock in "Genesis Countdown" / the silence in the scene between Kirk and son.
Perhaps the best musical anecdote about this film is that Horner opposed the use of 'Amazing Grace' for Spock's funeral. It would have lost us the beautiful orchestral reprise he did, but his belief that it would spoil the scene was mostly right.
If only they made 'em like this now...
Reviewer
Paul Tonks