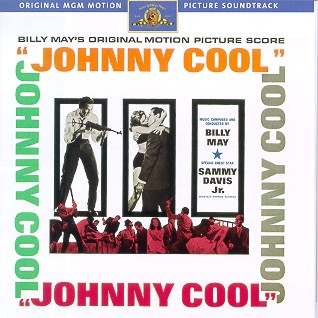 The music on this CD was recorded in 1962/3 for the gangster movie "Johnny Cool", the stars of which were Henry Silva and Elizabeth Montgomery. This is an album of high quality big band music from Billy May and an orchestra of top session players assembled for the purpose. Billy is synonymous with excellence in big band orchestration. By today's standards these tracks are mostly fairly short (less than 3 minutes), but the arrangements and the musical performance are of the highest standard. As the leader of a big band, I would consider it a great privilege to have these arrangements in my library and would love to have the opportunity to play them.
Billy May is now 83, but he still travels around the world playing concerts of his compositions and arrangements. He was recently in action with the BBC Big Band and anyone who heard the broadcast will testify that it was something special! Having learned his craft as a Trumpet player in the bands of Les Brown and Glenn Miller, Billy May turned his attention to Composing and Arranging and since that time he has never looked back. This album is a fine example of his work and should be in the collection of every serious big band music fan.
The first track The Lizard has a groovy theme with a Tenor solo by Justin Gordon, one of the few names listed on the information sheet. There were so many sessions in those days that no one can remember who played on them! The Window Washer has a well-written intro. some precise section work, the drumming is very crisp and there are some real screamers from high note Trumpet man Bud Brisbois. Dave's Affair is a slower track with some fine Alto playing in the style of Johnny Hodges. Borrow A Knife reminded me of Slaughter on Tenth Avenue, the band really swings on this one. Johnny Cool Theme has a two beat feel, slurping Saxes, more Trumpet high notes and a more up-tempo second section. Morning in Bolboa has the rhythm section playing in the style of the George Shearing Quintet. This track has a very relaxed feel and a great ensemble sound. The Shearing influence continues in Nice Quiet Saloon. There is a very well played muted trumpet solo from West Coast Trumpet player Don Fagerquist. Green Tables Blues is in the style of Bill Basie and there is nothing wrong with that! The Coolest Pad is just that, Tenor lead for the Saxes, superb ensemble playing and a very musical arrangement. Juan Coolistico, a Latin theme, plenty of clean percussion here, nice flute solo against riffs from the band. Sammy Davies JR. joins the Band for the last two tracks and gives his usual polished performance on Bee Boom, a Billy May original and the title track Ballad of Johnny Cool.
I don't know what the film was like because I haven't seen it, but the music is first class!
Reviewer
Don Mather

Reviewer
Don Mather