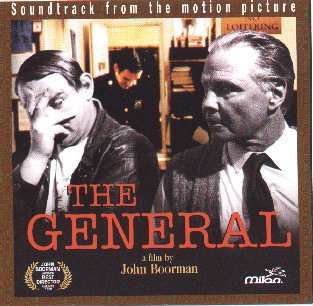 Initially, jazz was an African-American musical style, but it soon became a popular form through the Western world. Recognizable by its rhythmic structure, improvisation (or, at the very, suitability for the same), and the playing of notes below pitch, it is a style of music that is specifically non-specific. Although he did not make the introduction to cinema, many hold renowned film composer Alex North as the man responsible for making jazz respectable as a style of filmusic. Jazz so perfectly suits film that it boggles the mind to wonder why earlier composers dismissed it so swiftly.
Richie Buckley's jazz score to "The General" is no doubt an acquired taste, but its support of John Boorman's film about Martin Cahill, a famous Irish criminal, is nearly indispensable. The music feeds off the stereotypical perception of jazz as a sleazy musical idiom, creating conflicting images of class and irony. Like the black and white cinematography the film utilizes, the music emphasizes the characters and story rather than flooding them with atmospheric mimicry. The lack of specifics in the underscore fleshes-out the details of the film.
The score does best in the realm of evocative ostinatos and motives. While the themes are present, they are short-lived, quickly used and disposed of. The recurring piano ostinato that opens the soundtrack is the closest thing to a leitmotif the score has to offer. Because of the nature of the soundtrack, much of the score seems to run together on the album. This is the composer's fault. It is a fantastic score with discernible ideas, but they mesh almost too well.
One of the defining characteristics of film music is the ever-changing mood, the disparate pulse of the music as it moulds itself around visual cues like scene changes, knife slashes, or a woman's batting eyelashes. But "The General" sounds little different from an average jazz recording. This works. However, for the die-hard filmusic buff there is an audience that Buckley does not address. Of course, there is no rule stating he must address any style other than his own, but filmusic fans expecting a traditional film score -- or, for that matter, a traditional jazz film score -- may wish to listen before buying.
The musicians, all of whom turn in strong performances, are Mick Kinsella & Philip King (harmonicas), Stephen McDonnell (trumpet, flugelhorn), Michael Buckley (alto flute, tenor saxophone), Karl Ronan (trombone), Carl Geraghty (baritone saxophone), Ronan Dooney (trumpet, flugelhorn), Niall O'Neill (bass guitars), Paul McAteer (drums), Bernard Reilly (percussion), Brian Connor & Pat Fitzpatrick (keyboards), Robbie Overson & Arty McGlynn (guitars). Richie Buckley himself plays solo baritone saxophone.
Reviewer
Jeffrey Wheeler

Reviewer
Jeffrey Wheeler